The 50 Most Incredible Car Collections Owned by Athletes
Robinson Cano: Ferrari 458 Italia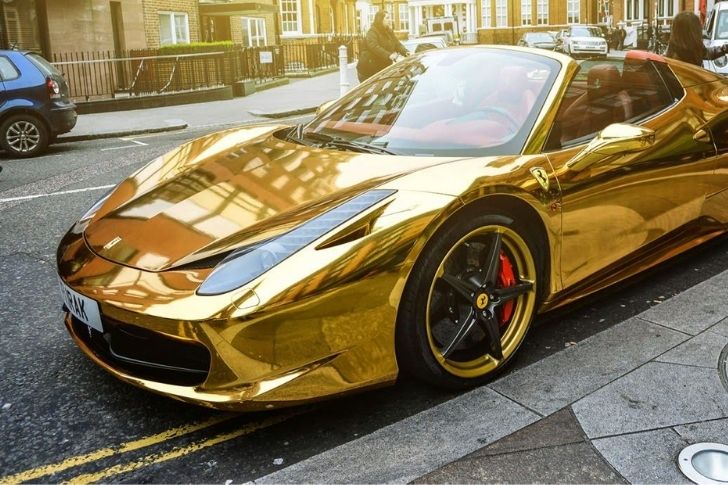 Robinson Cano, a seven-time All-Star player for baseball has a passion and taste for exotic cars. When not in the field or practicing, he is driving his personalized Ferrari Italia 458. This was customized for him by MC Customs, a Miami-based tuner famous for having many celebrity clients, most of whom are athletes. When the Seattle Mariner player sent the vehicle to MC Customs, they knew that it had to be wrapped in gold. The yellowish-tinge made the car shine cool under the sun. With the additions and modifications, the car's price must have shot past the roofing. It's been estimated that the car cost around $300,000.
Antonio Brown: Rolls Royce Wraith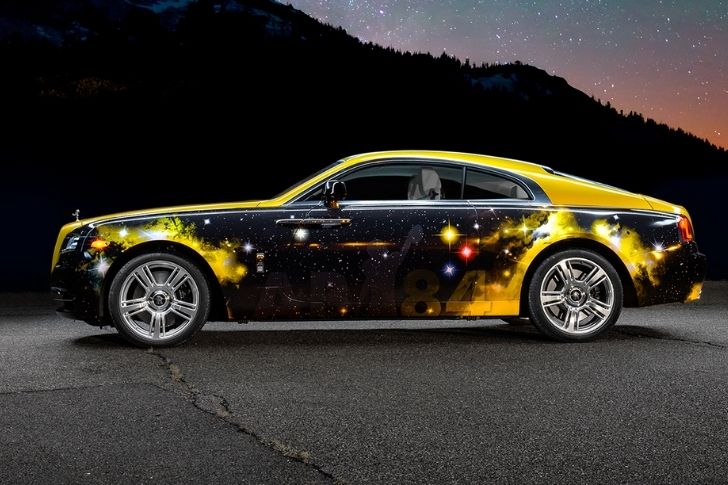 For NFL football player Antonio Brown, a Rolls-Royce Wraith with a satellite-assisted transmission seemed like the right choice. He took it further and designed the Wraith with an intergalactic theme. What is more interesting is that the Wraith was the subject of a bet between Brandon Marshall and Brown a couple of years back. Brown won, and to this day he is still waiting for Marshall to pay him back a Porsche as they agreed. He even took to Twitter to remind Marshall of the bet. This car apparently costs in the neighborhood of $315,000, just little over the average cost for a home mortgage.
Joe Johnson: Ford F-650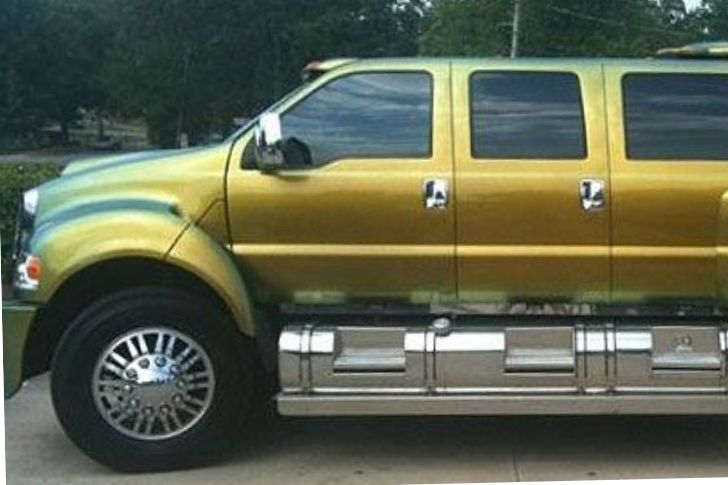 Packing a base price of $60,000, the massive Ford-650 is NBA sharpshooter Joe Johnson's vehicle of choice. He surely is not going into shipping or logistics anytime soon, but he decided to extend his 650's four-door model into an incredibly heavy truck, complete with iridescent paint and acres of chrome, which he uses when driving around town. Just imagine the gigantic size and the gas it must consume when driven regularly. The modifications were said to be in the range of $200,000, including the base cost. These modifications definitely make for a good impression when on the road.
Tom Brady: Audi R8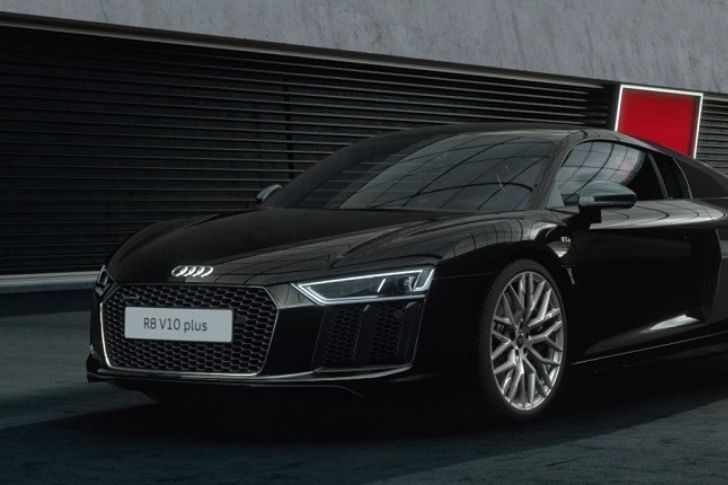 Tampa Bay Buccaneers quarterback Tom Brady is not as flashy as the other NFL stars but he sure knows how to spend his investments. He spent six figures on his black Audi R8. Packed with a V10 engine, which is not economical on the gas, to say the least. V10s are notorious for running at least 8 to 10 miles per gallon. Brady threw in at least $162,900 on this power-hungry vehicle. He has been seen posing on Audis as well during events. He also has owned several Audis, having been a fan of the vehicle brand for the longest time.
Lionel Messi: Maserati Gran Turismo
Who does not like Messi? Well, everyone likes him. And those who do not, it is their loss not yours–and neither is it Messi's for that matter. For the Argentinian star sensation, a Maserati Gran Turismo MC Stradale reflected his excellent taste in cars. Apart from the base price of $150,000, Messi also made investments on aftermarket tweaks, throwing in thousands more into the modification of the vehicle. He put the Maserati on sale for $125,000, tagging the vehicle as having a "Spanish license and the original marks of Messi". Of course, fans would probably end up paying more in order to own a Maserati by Messi.
LeBron James: Lamborghini Aventador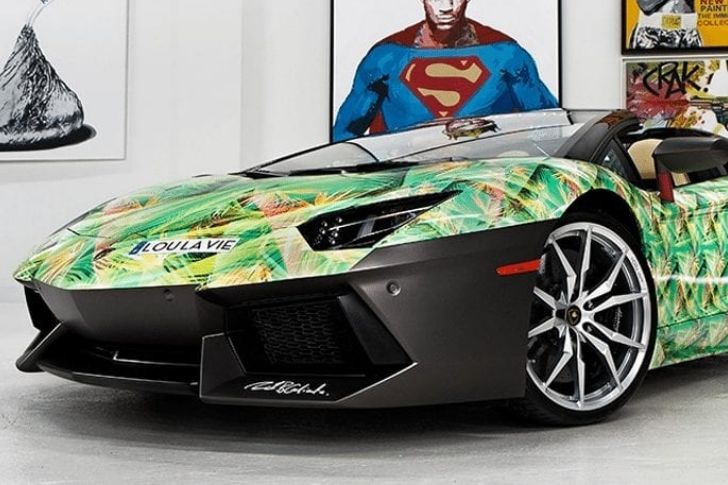 A floral sneaker design? Why not? This is Lebron James' choice of design for his Lamborghini Aventador. Modified by Rich B. Caliente, Lou La Vie, and Toys for Boys Miami. The vehicle was finished off with a wrap design which was commissioned by Nike, in time for the release of the King James Legacy Line. This expensive car, made to match his sneakers line, cost them around $670,000–nothing that someone with Lebron James' credit score can't afford. Over the years the four-time MVP had also driven some memorable vehicles, including a Porsche 911 Turbo S and a Hummer H2.
Justin Verlander: Mercedes SLS AMG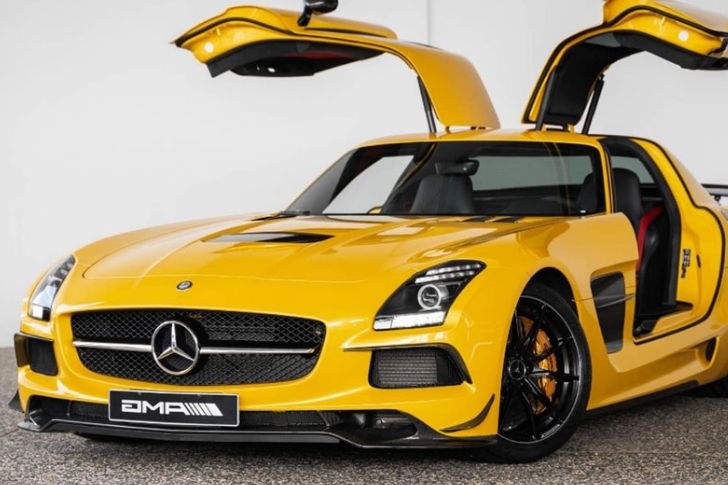 The limited-edition Mercedes SLS AMG was Justin Verlander's car of choice. There were only 200 models made in the US, and fortunately for him, he made it on the list. It's not like he didn't pay a hefty $250,000 price tag to make it to the list, however. Anyway, he got to join the select group of individuals who own an SLS-AMG Black Series supercar in the US. He is projected to earn over $200 million over the life of his MLB career, so he does not need to refinance loans just to afford it. The Mercedes SLS AMG is a front mid-engine, two-seater grand tourer that was developed by the known German manufacturer.
Serena Williams: Bentley Continental GT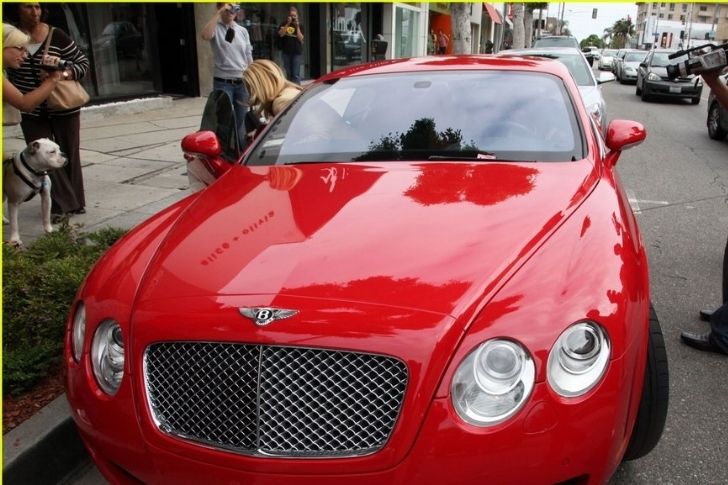 Being the most celebrated woman tennis player, Serena Williams certainly has earned millions and made investments to be able to afford even a fleet of the world's most expensive cars. She selected a Bentley Continental GT, which embodied a unique blend of style and exhilaration, fit for her personality. It commands a base price starting at $198,500. This vehicle represents a nice start to a modest collection of pricey vehicles. The GT's W12 engine packs a whopping 581 horsepower and could propel the GT from 0 to 60 in just 4.3 seconds—perhaps at par or even better than a serve delivered by the tennis legend.
Henrik Lundqvist: Lamborghini Gallardo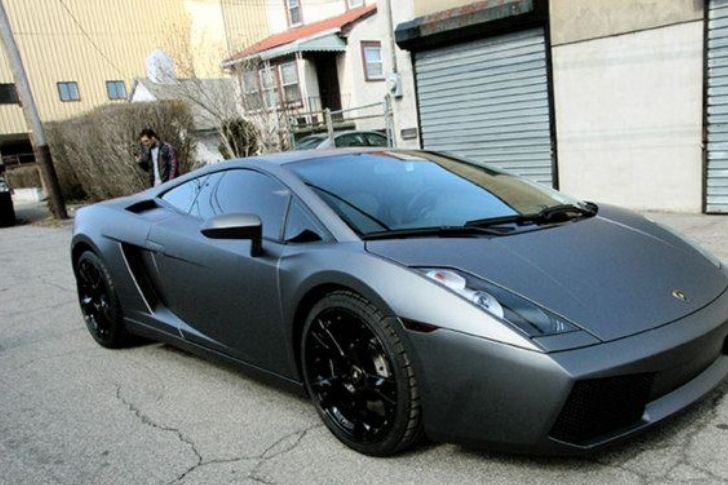 Known with a keen sense of style and sophistication, New York Rangers goalie Henrik Lundqvist had his Lamborghini Gallardo customized by Proformance several times over the years. The Gallardo boasts a 550-horsepower engine, enough to make spendthrifts wince as it sure does consume a lot of gas. The average consumption is 6.3 gallons per 100 miles, which is the median for this range of horsepower. True to his sense of style, one modification Lundqvist made on the Gallardo was the removal of the Lamborghini badge from the back and replacing it with the hockey athlete's last name in 2013.
Cristiano Ronaldo: Bugatti Chiron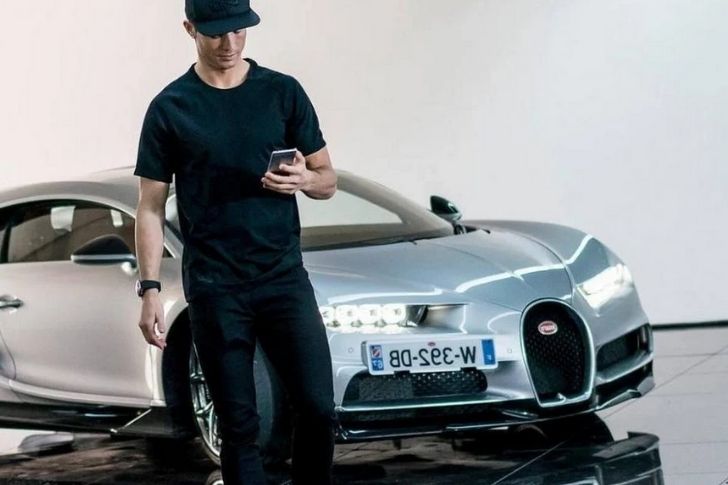 One of the top spenders for vehicles among athletes, Cristiano Ronaldo, reportedly spent about $2.5 million on his Bugatti Chiron. True, he has his collection of Bentleys, Porsches, Ferraris, and limited-edition Audis, but the most expensive of the lot is this Chiron. It is also among the fastest cars ever made, fitted with a W16 engine that can produce 1,479 horsepower and 1,180 pounds-feet of torque; the Chiron is set to beat previous records set by the Veyron Super Sport, another model manufactured by Bugatti. Who knows, perhaps Ronaldo's Chiron will be given credit as the fastest car?
Floyd Mayweather: Koenigsegg CCXR Trevita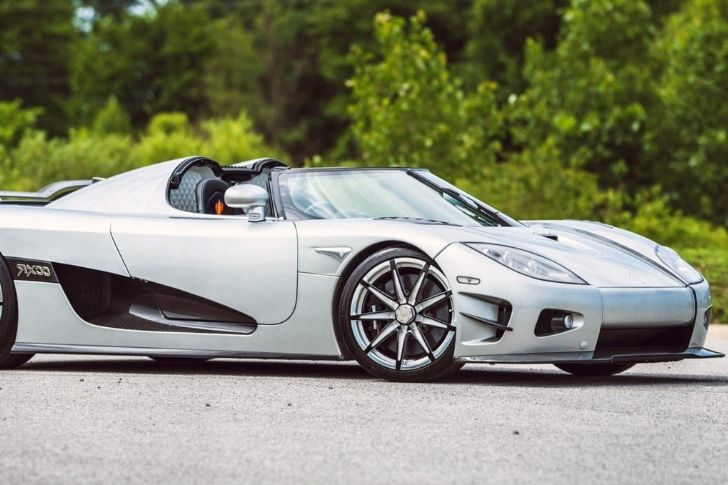 The nickname speaks for itself; Floyd "Money" Mayweather is unlikely to limit himself from spending for the best cars that ever existed. It is said that there are only two examples made of the Koenigsegg CCXR Trevita. Mayweather spent $4.8 million buying the only one made for the US. He must have thought it would be a good investment. With a through-the-roof power of over 1,000 horsepower, the Trevita can bring the vehicle from 0 to 60 in just 2.9 seconds. It can flash to a top speech of 240 miles per hour. This vehicle, rare as it may be, was sadly put on sale in March 2017.
J.R. Smith: Gurkha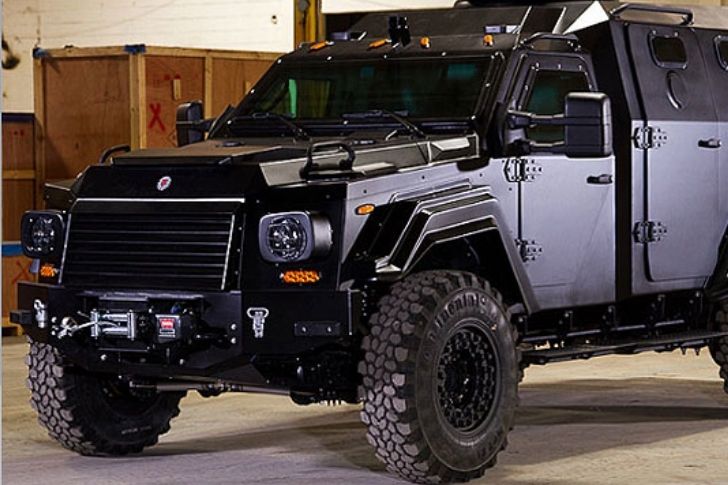 The vehicle's brand name conjures images of battle-tested soldiers, ready to fight at a moment's notice. No wonder headline-maker J.R. Turner selected this vehicle. The shooting guard made headlines when he drove around in New York in a Gurkha armored vehicle. This vehicle is usually deployed as a combat vehicle—the name gives it away—but civilians can also purchase it at a generous sum. The Gurkha reportedly set Turner's savings and investments back by about $300,000. But that was not a problem for the athlete as the car is sure to provide him with more than the necessary amount of safety when driving to and from work.
Yoenis Cespedes: Alfa Romeo 8C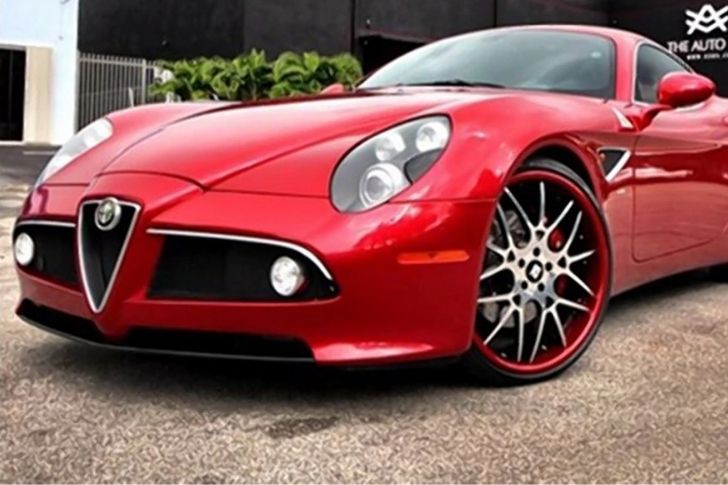 Mets outfielder Yoenis Cespedes turned on his competitive mode when he challenged himself to drive a different exotic car to Spring Training camp every single day of the week back in 2016. Among his favorites is the Alfa Romeo 8C Competizione. New sites reported that he had previously driven a Ford F-250 and a Lamborghini Aventador. He initially told the New York Post that he had no more cars but surprised everyone by arriving in an Alfa Romeo. The Alfa Romeo 8C, like what many other athletes have purchased, is limited-edition. It retailed for $250,000 back in 2008. Only 107 other vehicles can take credit for carrying the Alfa Romeo 8C brand.
Maria Sharapova: Porsche 911 Cabriolet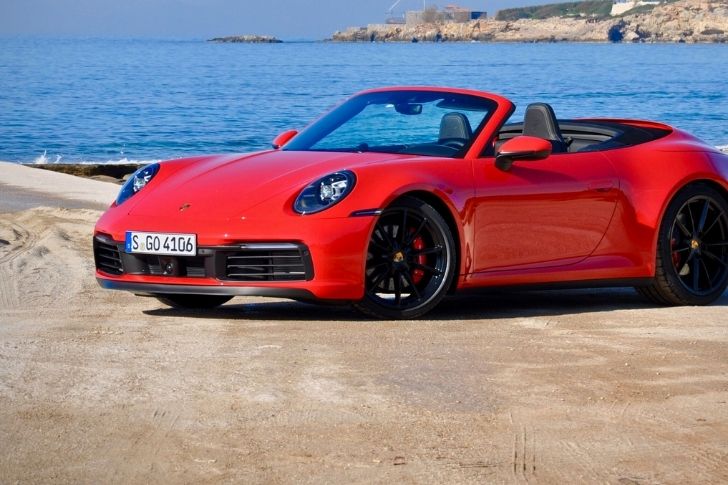 Tennis legend Maria Sharapova is a brand ambassador for Porsche. As such, it is only logical that she uses their vehicles and has photos of herself taken with various models of the brand. The one she took home to drive around in California is a Porsche 911 S Cabriolet. The coupe was originally her prize for a tennis tournament sponsored by the carmaker in Germany. This sparked her love for the brand and her journey with SUVs started after. If only someone could also pay for our home mortgage, right? If this were not paid for by Porsche, this would have cost Sharapova about $200,000 before modifications and additions.
David Beckham: Rolls Royce Phantom Drophead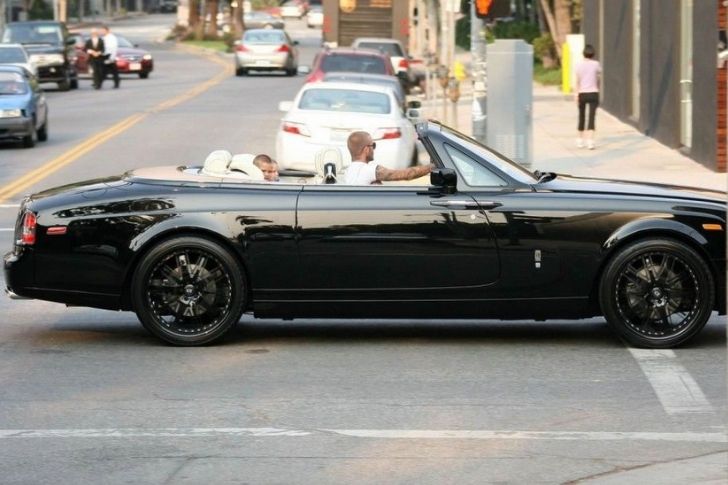 Soccer athlete David Beckam caused some people to drop their jaws in amazement when he drove his customized Rolls Royce Phantom Drophead while kicking and flooring the ball around for the LA Galaxy. He was also spotted cruising Beverly Hills, California in the convertible with his three beloved sons. Beckham heavily customized the convertible during the brief time he owned it and added his personal touch to it. When he was due for an upgrade, sales agents put the vehicle in the market for a price of $390,000, with just a little under 6,000 miles on it during that time.
Felix Hernandez: Nissan GT-R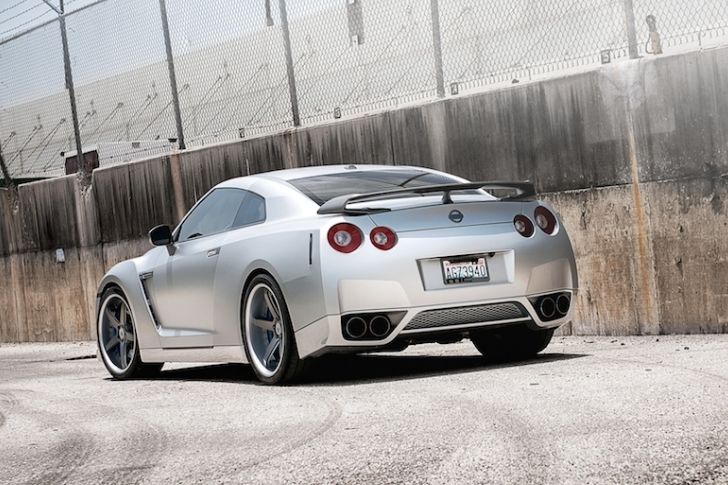 With a perfect record, star pitcher for the Mariners Felix Hernandez has a Cy Young Award and a collection of some crazily expensive cars as well. In a photoshoot with the crew from MC Customs, Hernandez showed off his Range Rover and his Nissan GT-R. The sports car is high-performance, as it should be for its owner. It has a V6 engine with 565 horsepower and can go from naught to 60 in 2.9 seconds. Now, that is speed. The GT-R is priced at $174,990 before extras. Getting this car in your collection could undoubtedly elevate the value of your investments.
Derrick Rose: Bentley Mulsanne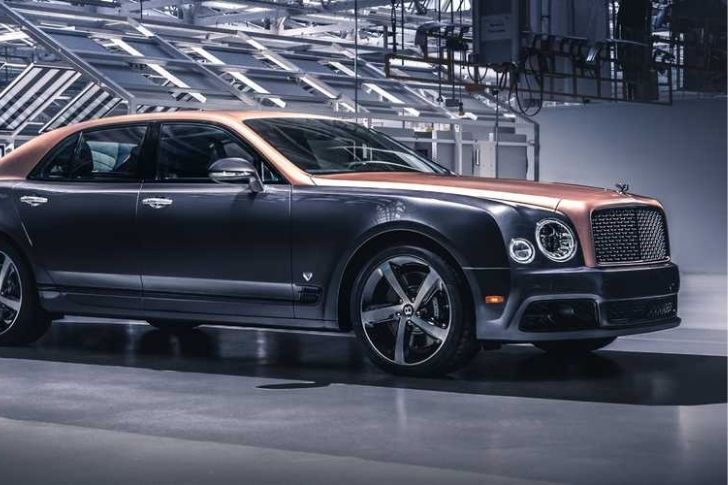 Bentleys are known for their resilient infrastructure and flexibility. The same can be said about the former franchise face of the Bulls, Derrick Rose. While he may have sustained injuries during his career at the NBA, he has shown endurance and grit, as well as a taste in collecting cars. He bought a Maserati Gran Turismo as a young athlete and later on purchased a Bentley Mulsanne for $303,000. While that amount can pay-off more than a few student loans, Rose once left his expensive car at a parking lot during a snowstorm. Talk about a muscle car being muscled away from all the accumulated snow!
John Cena: Custom Corvette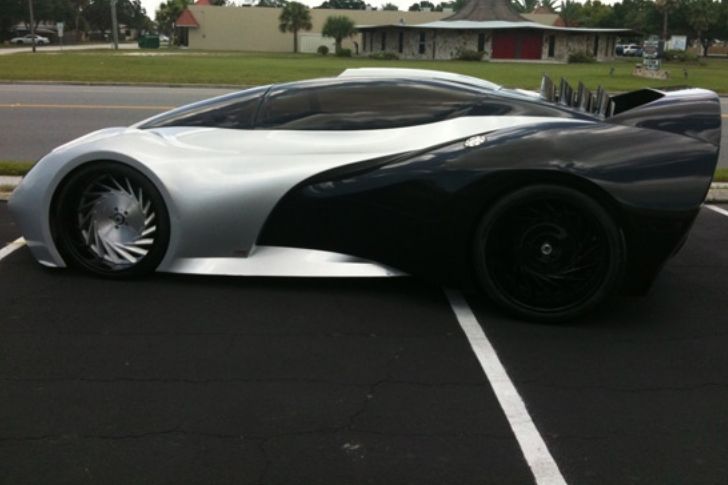 The 16-time World Champion, John Cena, can take a lot of credit for memes that you see (or do not see). Cena loves classic muscle machines. It is not a surprise because the man himself is all muscle. He customized a Chevy Corvette to make an impression. The wrestling superstar asked Parker Brothers Concepts to elevate the design of what he called the InCENArator in time for the Gumball 3000 rally. He did get a lot of attention because of the deep rumbling sounds generated by the inCENArator when he arrived at the rally. People were taking pictures as the car revved its way in traffic.
Reggie Bush: 1967 Ford Shelby Mustang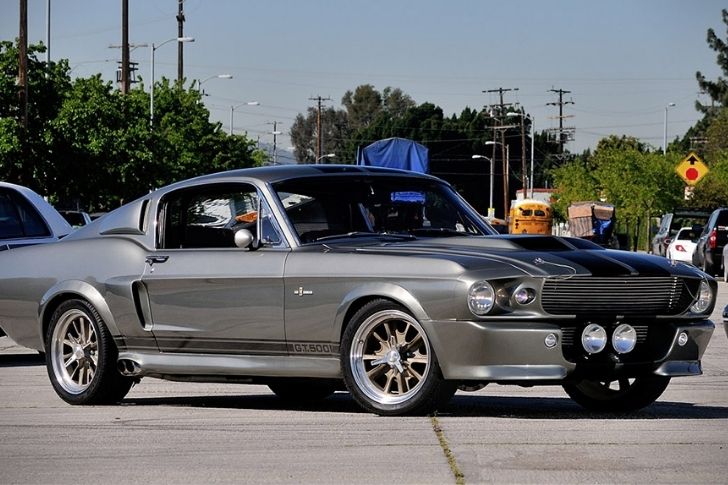 Built for speed, the 1967 Ford Shelby Mustang owned by Reggie Bush proves his preference for muscle cars. The USC and NFL star owns a 1967 Ford Mustang Shelby GT500. It is a vintage piece that has captured the eyes of many. Over the many years he owned the car, he poured a lot of investments into it. It's estimated that he spent around $800,000 to transform the rare beauty into a true work of art. Unfortunately, he listed it for sale back in 2013. Now, we wonder who got the gray Mustang with black stripes and a 7.0 L V8 engine.
Bubba Watson: Cadillac LaSalle C-Hawk Roadster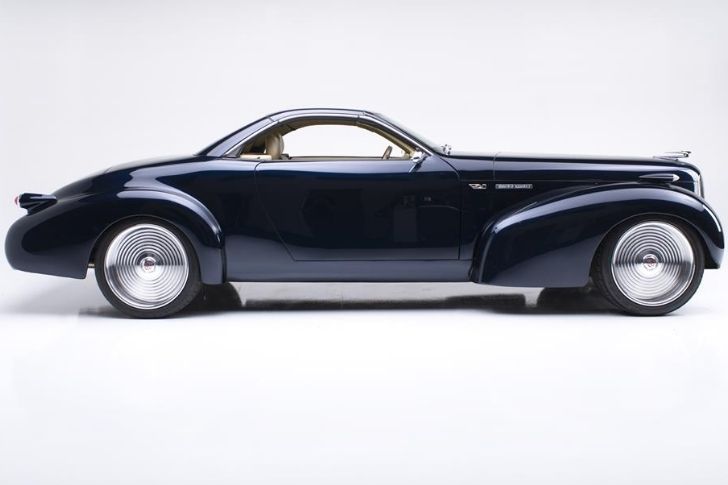 For PGA veteran, Bubba Watson, says that collecting cars for the sake of having a collection is not enough. He wanted to monetize his vehicles so that he can rack up income from his investments as well. And to that end, he bought a Chevy dealership in 2016. He also, at one time, bought the actual General Lee Dodge Charger used in "The Dukes of Hazzard". Yes, that one. Also, he owns a customized Cadillac C-Hawk Roadster from 1939. When Watson auctioned the Roadster for a charity in 2015, bidders went practically crazy getting their bids in. The car fetched a whopping $410,000.
Aroldis Chapman: Lamborghini Murciélago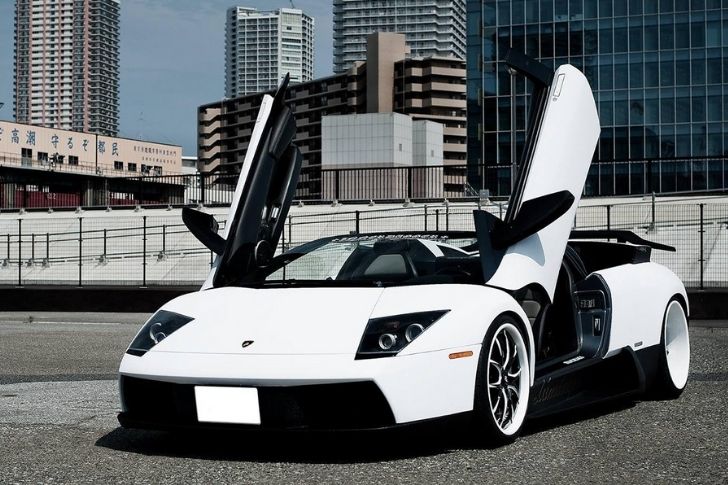 Aroldis Chapman is given a lot of credit for being a hard-throwing close who had bounced from Cincinnati Reds to New York Yankees and then over to the Chicago Cubs after the 2016 season. He proved to everyone that he's a player who is so sought after. In that same season, he ended with a World Series win. And it appears that he celebrated with a car purchase. Back in 2011, he had MC Customs perform several additions and modifications on his Lamborghini Murciélago LP64. Estimates of the cost are at around $382,000 to about half a million—a win for the car and MC Customs.
Brandon Marshall: Porsche 911 GT3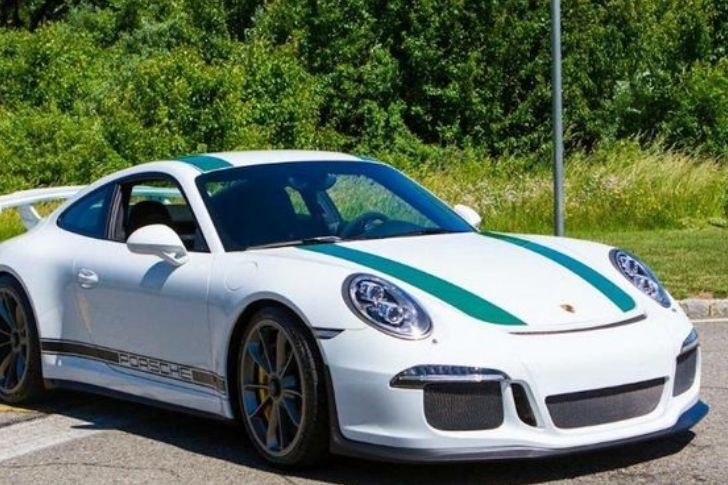 We know that Brandon Marshall and Antonio Brown made a bet, but did Marshall actually own a Porsche 911 GT3 in 2016? It turns out he probably did not, as the 911 GT3 in question was a promotional model for the partnership between the New York Jets and Porsche. To make things more complicated, Marshall signed up with the New York Giants in 2017. He most likely had to bid the Porsche goodbye. Brown, a sportsman, said he did not care about the car and hoped that Marshall would donate $100,000 to his charity instead. He probably can just charge it to his credit cards to settle the issue.
Mario Balotelli: Bentley Continental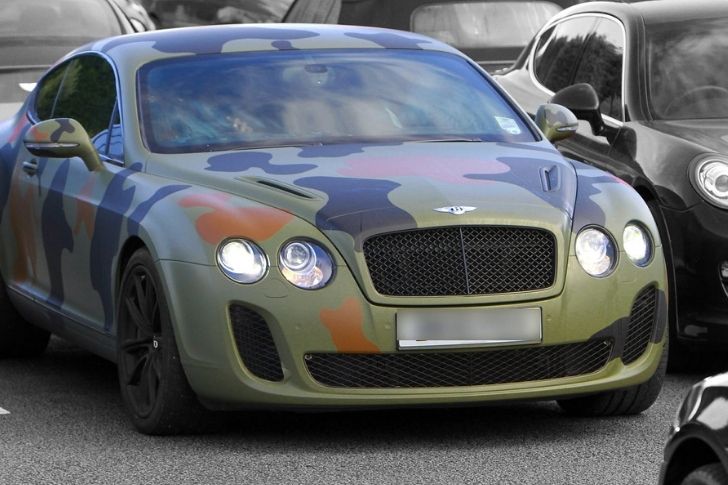 Mario Balotelli definitely likes customizing his Bentley Continental. The car, with a starting price of $200,000, was wrapped in camouflage. He also customized everything from the hood to the flooring. The grand tourer has a 6.0 L W12 twin-turbo engine. You can only guess that with the various design modifications and additions, he paid a handsome amount for the Continental, a staggering $250,000. But did you know that he actually just gave away this infamous Bentley to a teammate back in 2013? The lucky guy was Urby Emmanuel who subsequently changed the color back to the original white.
Zlatan Ibrahimovic: Porsche 918 Spyder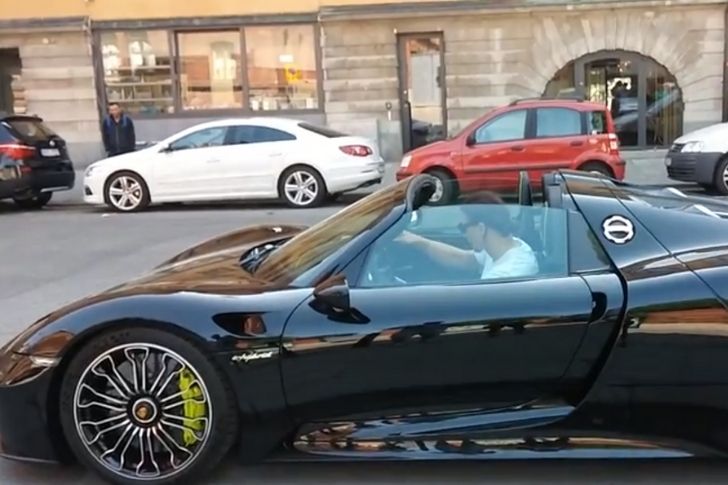 Zlatan loves to brag about his accomplishments as a star player. He knows his craft well and the Swedish soccer star apparently also knows how to select the best looking cars. His car collection includes a Ferraro Enzo, an Audi S8, a Maserati Gran Turismo, and the new electric hybrid hypercar Porsche 918 Spyder—a hybrid, which means it doesn't expend gas! The car is rated to run up to 12 miles all-electric. This vehicle was first shown as a concept during the 80th Geneva Motor Show in 2010, and when paired with Zlatan, it evokes power, technique, and performance that fits the star's accomplishments.
Samuel Eto'o: Bugatti Veyron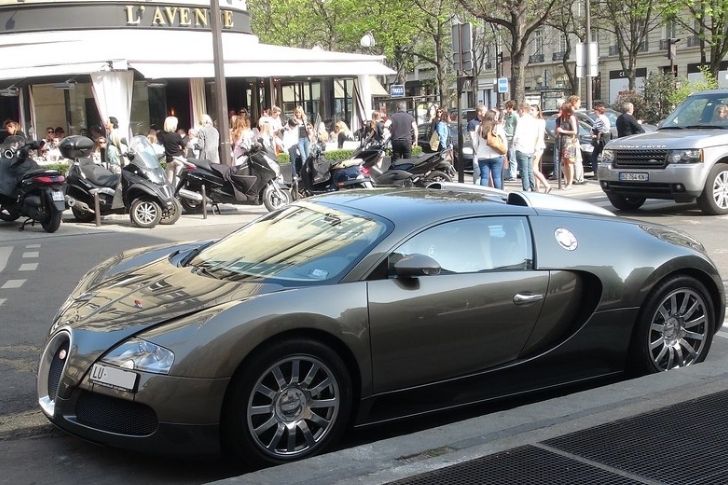 Samuel Eto'o is given credit as one of the most decorated African soccer players of all time, with four African Player of the Year awards to boot. He owns several cars including an Aston Martin V12 Zagato, a Porsche Gemballa Mirage, a Bugatti Veyron, a Maybach Xenatec, and of particular note is his incredible Aston Martin One-77. The 77 is one of a kind as there were only 77 units produced. It can be likened to Et'o because his career is also one of a kind–he is a celebrated and multi-awarded player who has played for top-notch teams like Barcelona, Inter, and Chelsea.
Jenson Button: Brawn BGP 001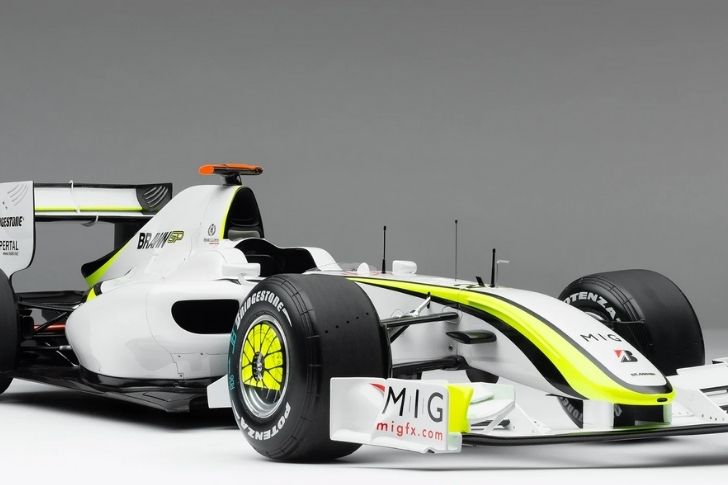 A Formula 1 champion is expected to drive cars of the highest caliber. And Jenson Button did not disappoint. He owns a lot of supercars, including a Mercedes C63 AM6, a Nissan GT-R, a few Ferraris, and a McLaren P1, to name a few. One of his Ferraris, a 355, was a vehicle he purchased after his F1 debut. His most prized among his vehicular investments is his 2009 Championship winning car Brawn BGP 001. This was the only Formula One car constructed by the Brawn GP team, and it is fitting that the F1 champion won it for himself. The cart is made out of a molded carbon fiber and honeycomb composite monocoque. It's been installed with a Mercedes-Benz V8 engine.
Ian Poulter: 1960 Ferrari 275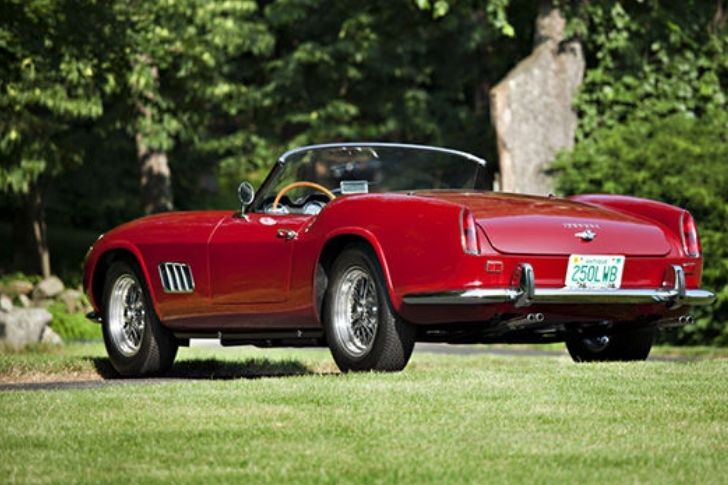 Golf is a sport that very few follow, so you probably do not know Ian Poulter. But for those familiar with the sport, he is given credit as a professional golfer who had ranked 5 in the world rankings. He is seriously into his car collection as well. He usually posts photos of his amazing rides on Twitter. He owns a lot of luxury cars, including a Ford GT-40 and a Ferrari 458 Speciale Aperta. He is also the proud owner of a restored 1960 Ferrari 275. After being worked on for two years, he showed off his 275 on Instagram. The car was specially designed and was showcased in a Ferrari convention.
Lewis Hamilton: Pagani Zonda 760 LH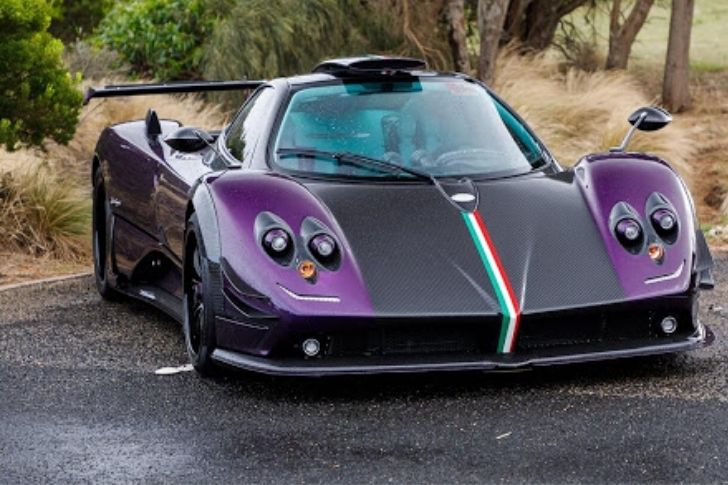 Hamilton is known to have a need for speed, and lucky for him he has a career that permits him to do it as often as he likes. His three Formula 1 championships appear to be a good indicator of that love. Since he is a racing champion, it's no surprise that he also owns a prime collection of incredible rides, including two Mercedes SL65 AMGs, an Eleanor Shelby GT500, a Ferrari LaFerrari, and a one-off Pagani Zonda 760 LH. It appears though that the Zonda does not handle well and he described it as the "worst" among his car investments. Still, the Zonda is treated like a queen alongside the other cars he owns.
Marshawn Lynch – Lamborghini Aventador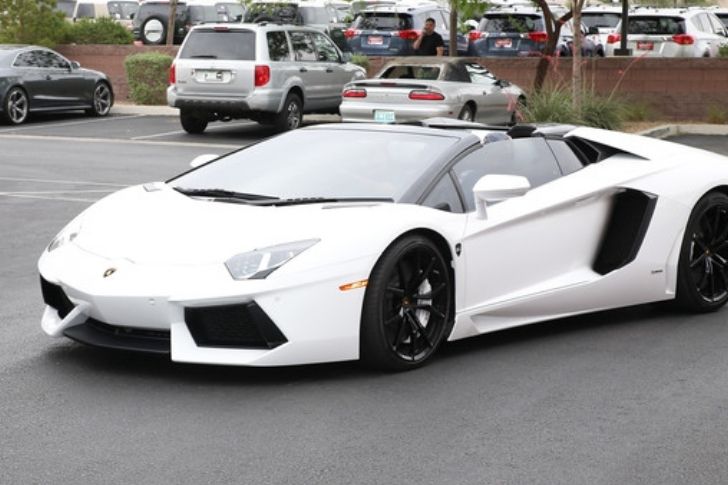 NFL star Marshawn Lynch, who deserves credit for being one of the best football running backs to have ever played in the NFL, now plays for the Seattle Seahawks. He sports a mean intimidating appearance off-field just like his almost 700 brake horsepower V12 Lamborghini Aventador Roadster. The Roadster was in production from 2013 to 2016, and Lamborghini claims that this could go from 0 to 60 mph in just 2.9 seconds. Top speeds can be as high as 217 mph. He fondly refers to his Aventador as his crash dummy car, perhaps implying that the car has a tough build, much like himself.
Julio Jones – Ferrari 458 Spider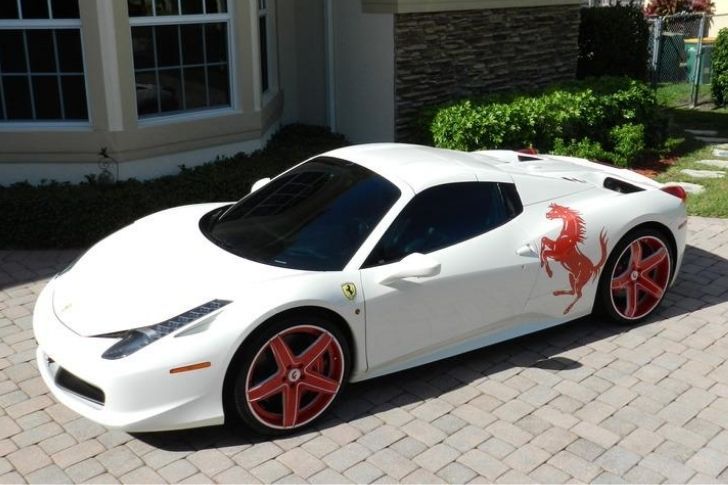 A Ferrari 458 Spider is Julio Jones' choice of car. He plays for the Atlanta Falcons and has garnered more receiving yards than most players after he entered the League in 2011. He reportedly had amassed a fortune and was able to make some investments that allow him to indulge here and there. He loves cars and has a vast collection, which includes a Ferrari 458 Spider as among the ones that stand out. This car was first introduced at the Frankfurt Motorshow in 2011 and features a retractable aluminum hardtop. It can go from 0 to 60 in less than 3 seconds. The engine cover has been redesigned to accommodate the roof system.
Aaron Rodgers – Mercedes Benz SLS AMG
Aaron Rodgers started his athletic career in college, so he probably did not worry about student loans because he was already a rising star at the time. He was selected by the Green Bay Packers during the 2005 NFL Draft. He has so far enjoyed a celebrated career and when not out there playing football, he occasionally indulges in riding his red SLS AMG performance car. The SLS AMG has already won a number of design awards, which serves as a testimony to its being one of a kind. This coupe was in production from 2010 to 2014 and it features a 6.2 L M159 DOHC V8 engine.
Amari Cooper – BMW I8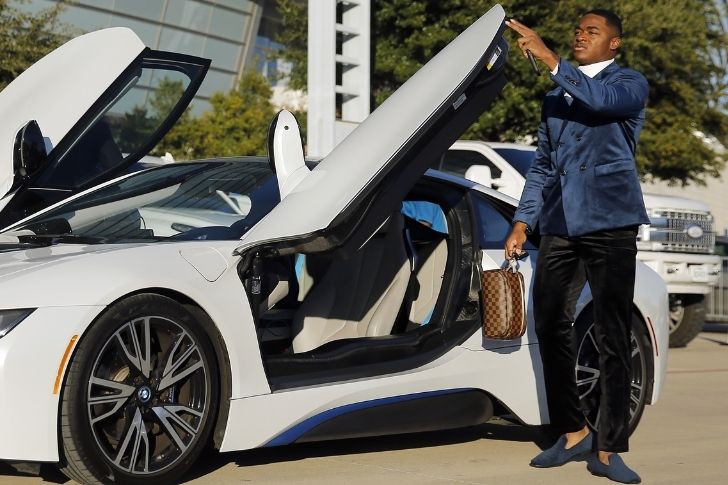 What can better complement Amari Cooper than a coupe? The BMW i8 is a plug-in hybrid sports car that has an all-electric range of 23 miles. While it saves on gas as it is rated fuel-efficient, it does not scrimp on power since the vehicle can go from 0 to 60 in under 4 seconds. This sports car is what Cooper usually ends up using in training. The Dallas Cowboy star sure knows how to wow in his $112,000 car. BMW, however, stopped production of this car just this June 2020. The carmaker initially planned to end production in 2018.
Michael Strahan – Porsche 911 GT3 RS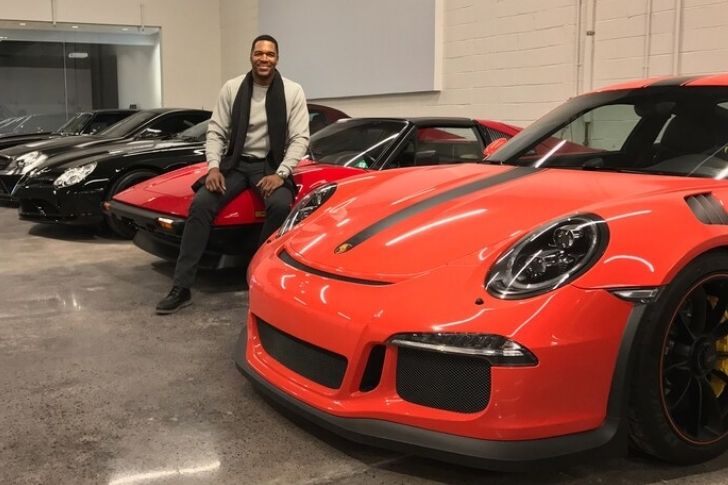 A Ferrari is flashy as flash gets. Michael Strahan is given a lot of credit for living a flashy lifestyle, and his choices definitely reflect that. His car collection includes a Mercedes Benz SLR McLaren Roadster, a Porsche Carrera GT, and a McLaren Senna that he bought for himself as a birthday present. Among his top favorites, however, is an orange Porsche 911 GT3 RS—a car that he described as best for daily drivability and dependability. The base price of the 911 GT3 RS starts at around $188,000 and boasts of a naturally aspirated V8 engine with rear-drive and excellent aerodynamics.
Frank Gore – Rolls Royce Phantom Drophead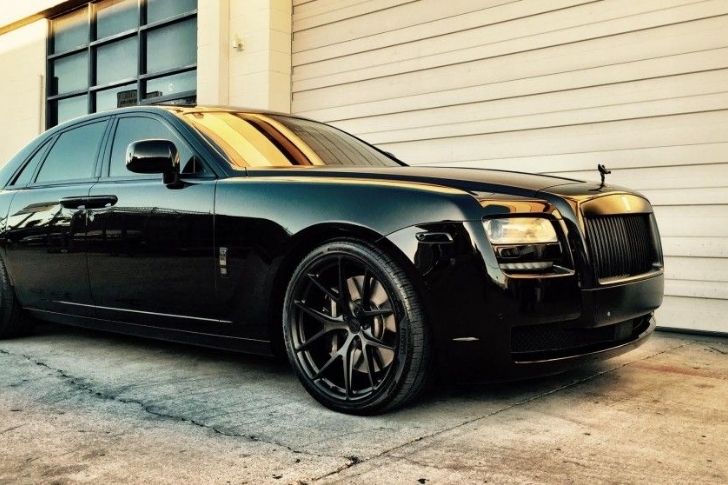 Veteran NFL player Frank Gore has an excellent collection of cars. He likes flashy vehicles and he lets them do the talking for him. He especially likes his Rolls Royce Phantom Drophead, a winner among cars, which also reflects his long history with the NFL. This vehicle comes at a base price of $492,000. He was given credit as the third all-time leading rusher in the League's history and that richly compliments Rolls Royce's image as a maker of luxurious vehicles. Several Dropheads, for example, were used in the 2012 Summer Olympics Closing ceremony, making them a staple in sporting events.
Joe Haden – Lamborghini Aventador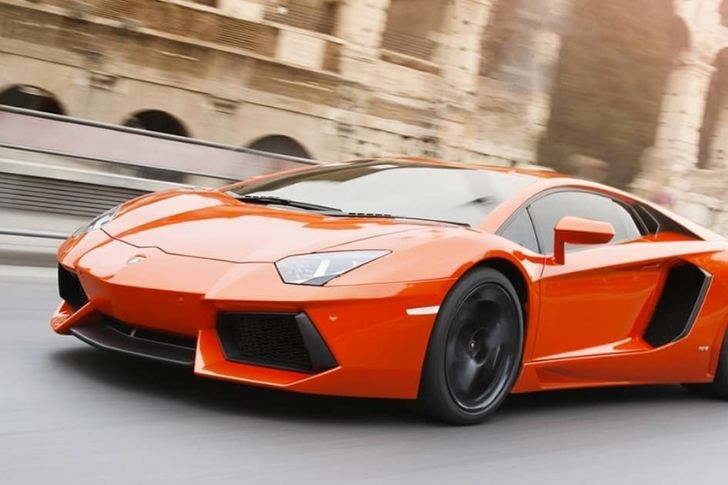 The Lamborghini Aventador appears to be a favorite among NFL players because this is one of the vehicles frequently driven by Joe Haden. With an estimated net worth of more than $100 million, he can certainly pay for home mortgages many times over or buy several Aventadors if he wanted, too. The base price of an Aventador is only at $395,695. The Pittsburgh Steelers Cornerback certainly splurged, as his garage includes two Rolls Royce sedans and an orange Aventador. And this is not his first Lamborghini either. He previously owned a white Murcielago Roadster, which he replaced with the sassier Aventador.
Aaron Donald – Karma Revero
Footballer Aaron Donald was given a whole lot of credit during his time as an All-American football player while in college. He subsequently signed up with the Los Angeles Rams. The contract spans six years, where he is expected to get paid $135 million. He celebrated this win by having the exclusive Karma Revero delivered right to his home. The Revero is good for the environment as it is an electric car with a back-up combustion engine. The Revero can cost up to $140,000, but Donald, for sure, did not break a sweat while signing the check given his multi-million contract with the Rams.
Pat O'Donnell – McLaren 570S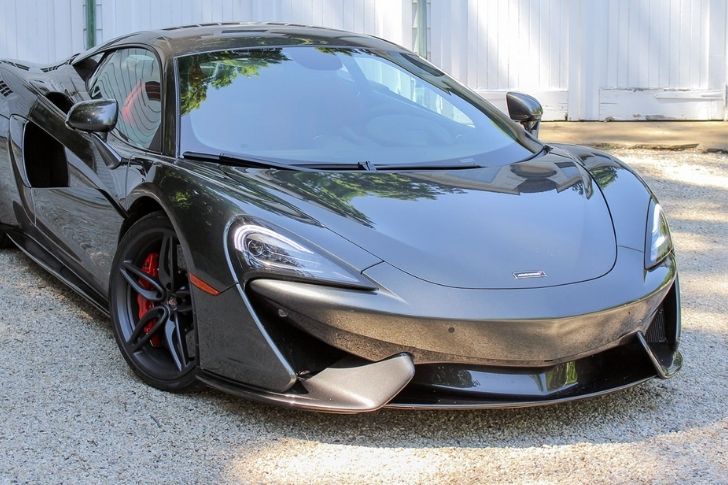 Chicago Bears punter Pat O'Donnell is often seen in a sleek grey McLaren 570S coupe. The two-door is the entry model in the McLaren Sports Series lineup, but do not be misled as it still packs a very serious punch. Its 0 to 60 mph is just over 3 seconds. The McLaren 570s was first unveiled at the 2015 New York International Auto Show, and the coupe comes with a 3.8 L twin-turbocharged M838T E V8. The vehicle is estimated to be worth upwards of $280,000, which is an amount that could very well be worth ten times the average student loan!
Odelle Beckham Jr – Rolls Royce Cullinan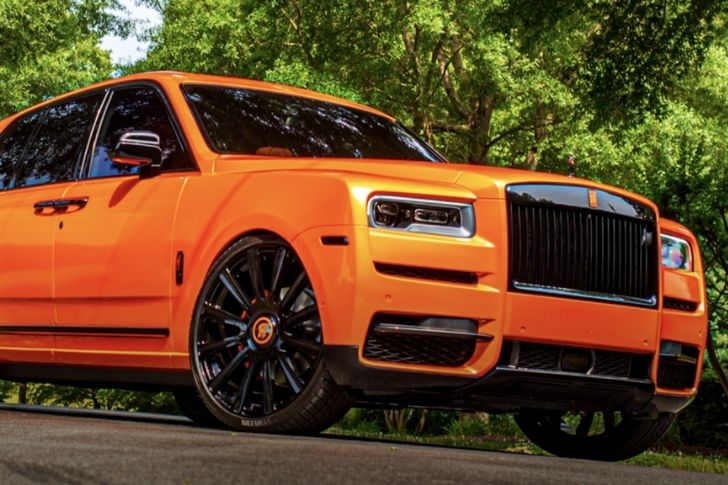 We know that NFL stars are paid handsomely and so they can afford to get the priciest of cars to include in their investment portfolios. And these stars do not hold back in taking advantage of the perks that come with stardom. OBJ, as he is commonly known, bought for himself a heavily-customized Rolls Royce Cullinan. One customization he asked for is that the famous "Spirit of Ecstacy" emblem be replaced with a figurine of himself. Nothing can beat the Cullinan as this is the first SUV to be launched by the Rolls Royce Marque and the brand's first all-wheel-drive vehicle.
Cam Newton – Ferrari F12 Berlinetta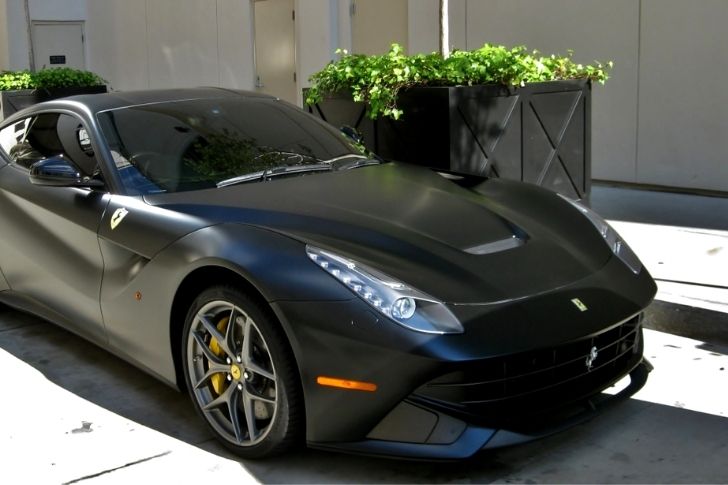 The need for speed is tempting, and certainly, Cam Newton gave in to the temptation when he had made an investment in an out-and-out Ferrari powerhouse. This supercar packs more than 700 braking horsepower in its 6.3 L naturally-aspirated engine. The engine power is of course an overkill and more than enough for the casual driver, but who can stop him? Well, quite literally, a dump truck could. In 2018, Newton figured in an accident with a dump truck, but fortunately, there was minimal damage on both sides that a police report had not been filed from either camp. But hopefully, this had made him appreciate the importance of being more careful on the road.
Alfred Morris – Mazda 626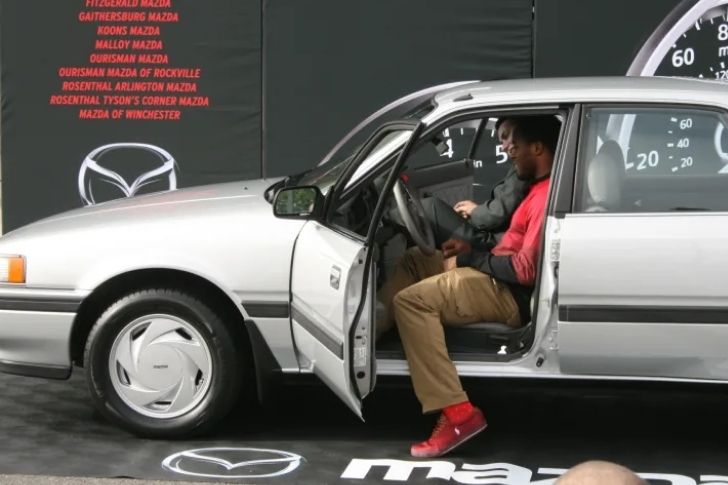 All of the previous cars we talked about were purchased for thousands, if not millions of dollars. But of course, there is always that odd one from the group. NFL star Alfred Morris paid only $2 for his Mazda 626 that he christened the "Bentley". He bought this 1991 model car in 2010, and though it will never take credit as a top-dollar car that is commensurate to his earnings, he was happy with it. Mazda then offered to refurbish the vehicle in 2013, which resulted in the vehicle getting a new lease in life. It is interesting to note that mainstream production of the 626 was discontinued in 1991.
Kris Bryant – Maserati Quattroporte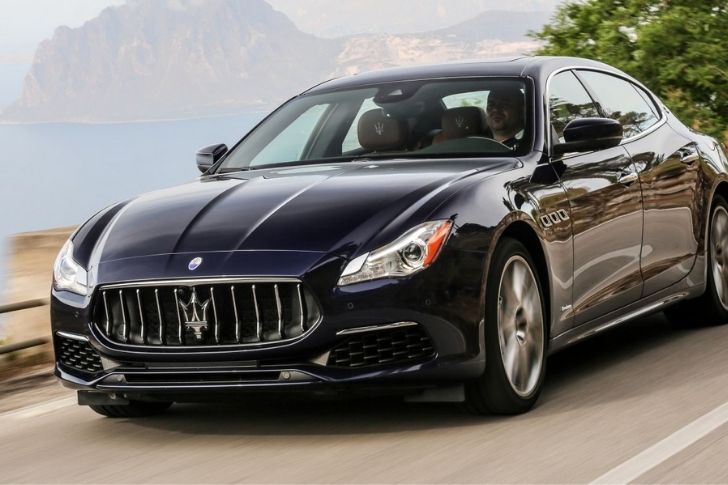 Kris Bryant has been seen sporting various cars on many occasions. This is perhaps a testament to his investment in his collection. He drove a Red Bull red car in Austria. He also rode a KTM-Bow and learned how to drive a Nissan 370Z, where he reached 111 mph with the help of Motorsport pro instructor Bernard Auinger. Among the many cars in his personal collection, he's been seen in a Maserati Quattroporte. This four-door vehicle is full-sized and was customized to include a vanity plate reading "KB". Not only is he a master in the field, but also on the road.
Mookie Betts – BMW Series 7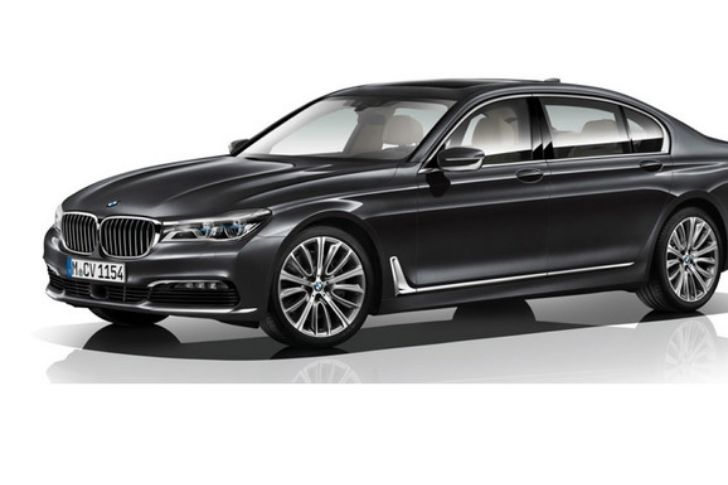 Baseball star Mookie Betts loves his BMW. He owns a nice, black, large, and full-sized executive sedan—the BMW Series 7. The right-fielder chose this flagship car which is only available in a sedan body style. The all-wheel-drive has been in production since 1977, and the line is among the classics of BMW. Previously, Betts also owned Toyota and Nissan cars. When he upgraded, he chose from the German automaker's lineup, which deserves credit for being one of the top luxury brands in the world. Betts had previously played for the Boston Red Sox but is now a right fielder for the LA Dodgers.
Von Miller – Chevy Camaro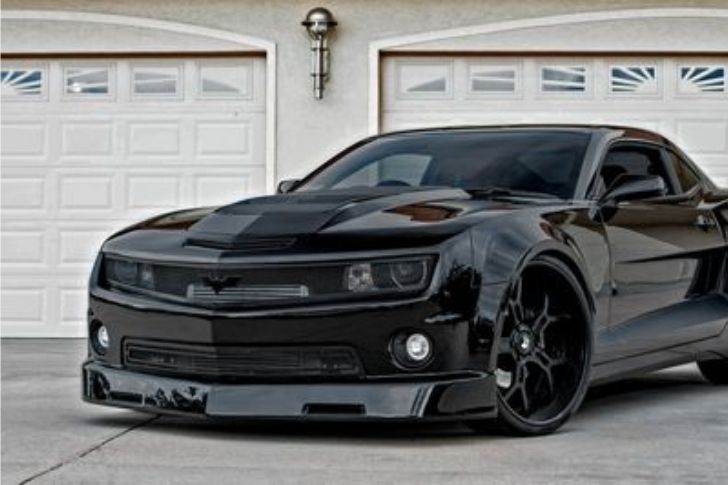 This outside linebacker for the Denver Broncos is known to be the best in his line of work. Outside of his work, he finds himself enjoying his awesome collection of luxury vehicles. Maybe he likes the adrenaline rush, something he also gets from the field. His garage consists of a modest collection of black cars, from a Chevrolet Camaro to a BMW i8, and even a BMW Series 7. He particularly loves his Camaro, and when he came out for the draft back in 2011, that was when the Transformers movie came out. But he modified it to some degree, so much so that it now looks like a Batmobile. He described his Camaro as supercharged, crazy, and high-performance.
Peyton Manning – Toyota Sequoia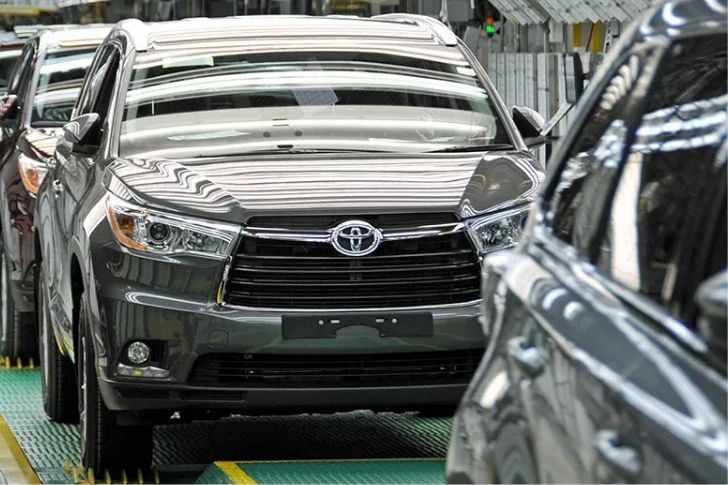 For a retired, 18-season veteran, you would expect a car collection that consisted of flashy vehicles. But this is not the case for Peyton Manning. He has made investments in vehicles that are meant for the road and nothing else. He owns a Toyota Sequoia, the top-of-the-line 2020 model of which starts at a modest $58,990. The Sequoia goes from 0 to 60 in 6.5 seconds, and that is by no means a modest number. It certainly has a lot of power due to its V8 engine. Manning also owns a Chevrolet Escalade, which is supposedly the most outlandish car he has in his collection.
Novak Djokovic – Audi R8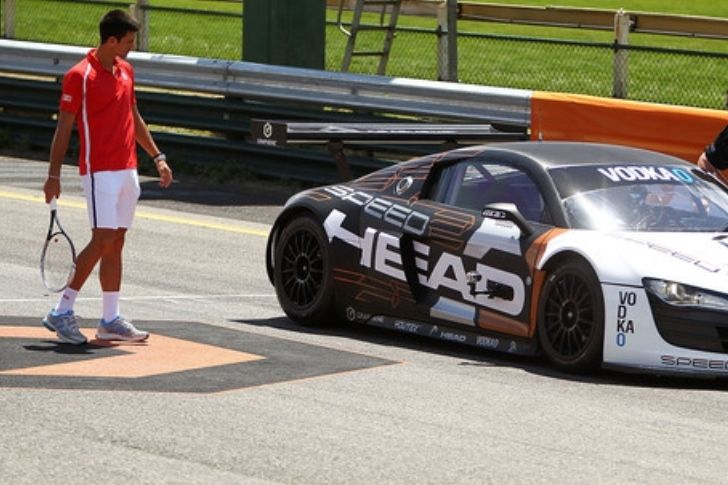 Successful tennis player Novak Djokovic is known for his playful personality and his down-to-earth character. He is currently ranked number 1 in men's singles tennis by the Association of Tennis Professionals. His accomplishments are reflected in the cars he has that are part of his investment portfolio. He has been seen driving a BMW, a Mercedes, and an Audi. He had recently been seen traveling in his Audi R8. This vehicle can go from 0 to 60 in just a shave above 3 seconds. In 2013, his serve went on a competition with an Audi R8 and, quite unsurprisingly, his serve proved faster than an Audi R8. That was quite a feat.
Roger Federer-Mercedes SLS AMG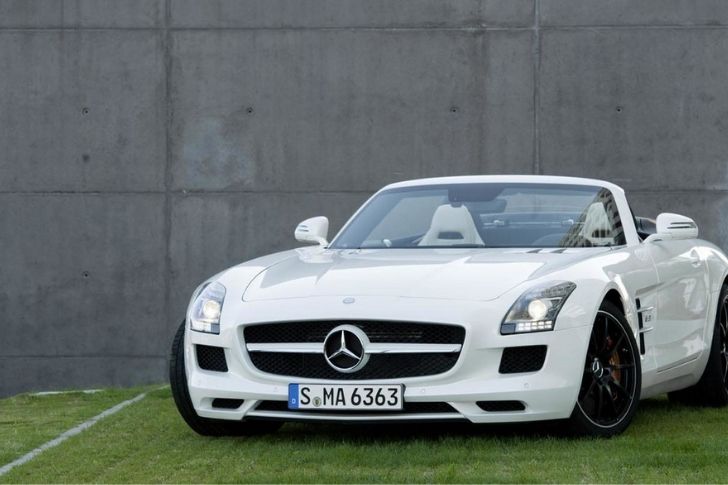 Federer is a Mercedes-Benz ambassador, and as can be expected, he has owned several cars from the brand since he started his partnership with them back in 2010. He is required to swap out his car every six months for a new one, allowing the star athlete to test a variety of vehicles. He has a vast collection of cars as part of his investment portfolio. If you ever see him on the road, he'll most be likely driving a Mercedes SLS AMG. This two-seater packs a 6.2 L V8 engine and was in production from 2010 to 2014.
Rafael Nadal – Aston Martin DBS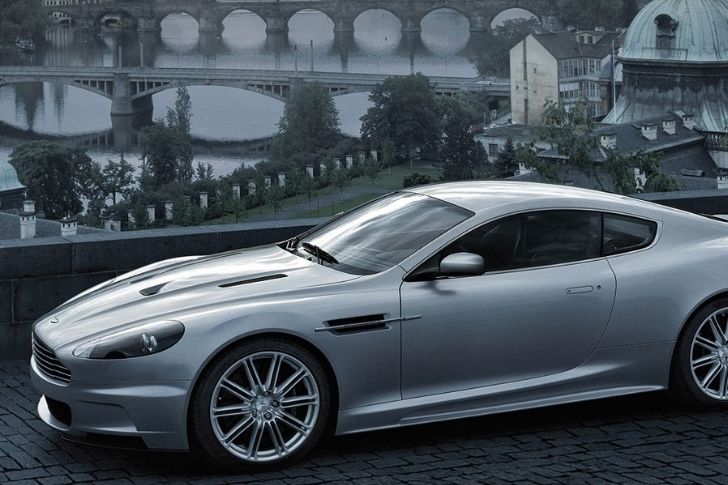 This British car-loving Spanish tennis player is currently ranked number 2 in men's singles tennis as far as world standing goes. Rafael Nadal fell in love with British cars as early as 2009 when he treated himself to an Aston Martin DBS. He also loves Germany-made cars as he was also seen driving a Mercedes-Benz SL 550. Maybe we can credit him for enjoying cars in general? He was also seen inside a Stinger G, a car with a starting price tag of $33,090. Nadal is also an ambassador for Kia, the Korean carmaker that intends to expand its reach in Europe.
Andy Murray – Ferrari F430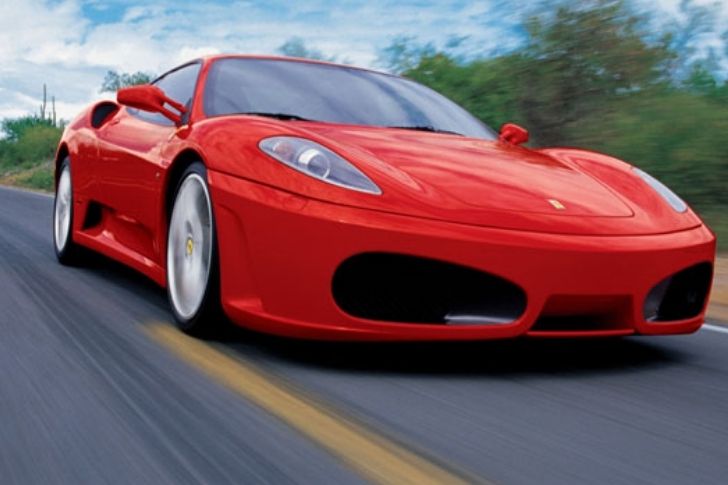 Andy Murray is not known for being an avid collector of road machines, but he has also been collecting cars recently, and he presumably didn't have to pull out any credit cards because he is partnered with a few vehicle brands. The first car Murray owned was a small city-car—a Volkswagen Polo—a vehicle that has been in production since 1975 to the present. He then upgraded and replaced it with a Ferrari F430, a sports car which was in production from 2004 to 2009 and packs a V8 engine. With this engine, the F430 can go from 0 to 60 in under 4 seconds.
Martina Hingis – Mercedes SLK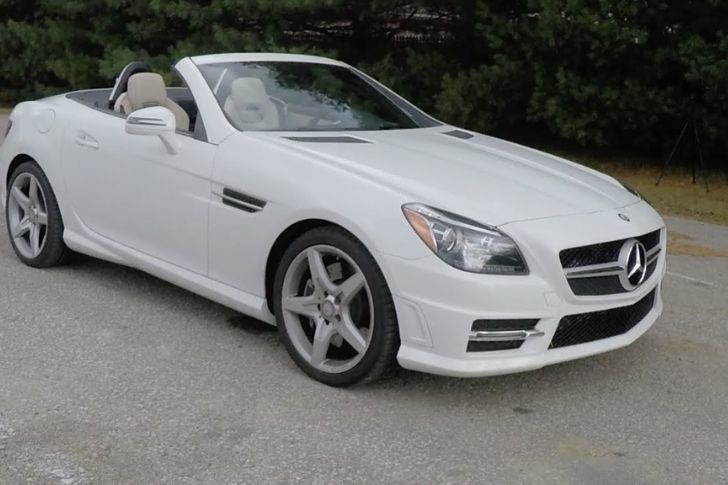 She had retired after a life of wins and after acquiring a legacy in the field of tennis. Martina Hingis, however, had made sure she made investments on a superb collection of vehicles. She has shown a fondness for topless Mercedes cars and Porsches. Her car of choice is apparently the Mercedes SLK. This model is of course tailored for the young and young-at-heart. The SLK has a 0 to 60 of 6.5 seconds and commands a starting price of $44,500. It is not surprising that the convertible is Hingis' favorite, as this symbolizes her accomplishments in the various tournaments she was a part of.
Pete Sampras – Porsche 911 Turbo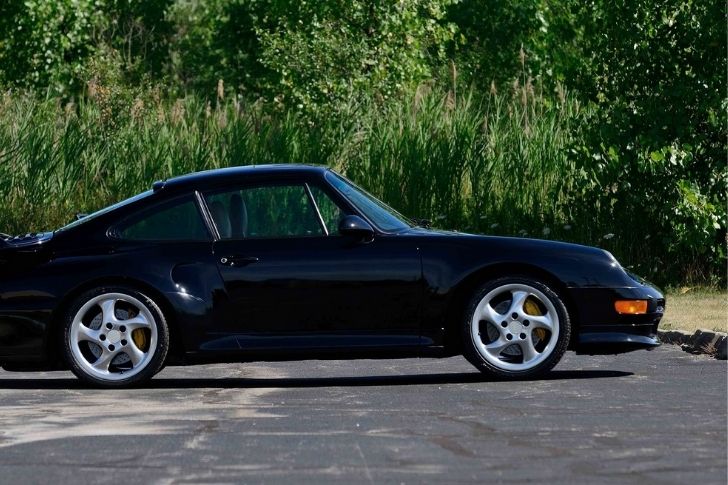 Pete Sampras is estimated to be worth $150 million and with that amount in the bank, he doesn't have to swipe his credit cards but can pay on the spot with cash! The wealthy athlete is an avid fan of Porsche. Because of that he and Carlos Moya were invited by Matthias Müller, Chairman of the Board of Porsche, to the firm's production facility in Zuffenhausen, Germany. Sampras had shown favor towards the Porsche 911 Turbo. This six-cylinder vehicle has a top speed of 300 kph and packs 450 horsepower. This certainly is powerful for a 1997 model. Sampras owned this vehicle until 2015 and it was valued at around $425,000 to 525,000.
You've Reached The End