Famous Celebrity Island Owners
Rudolf Nureyev: Il Gallo Lungo –  $2.4 Million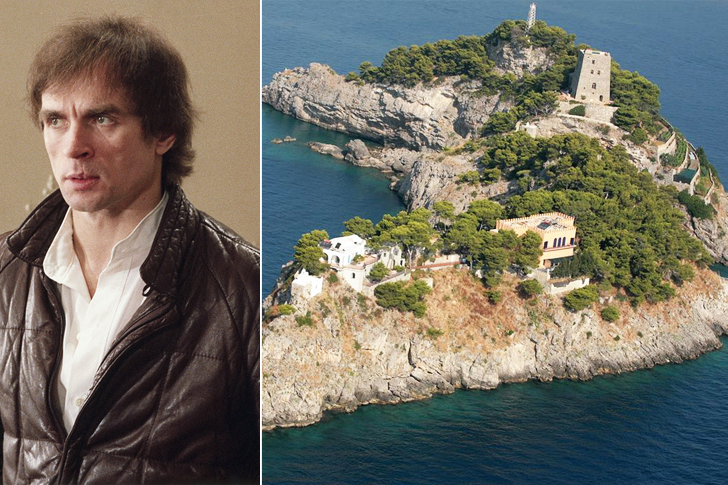 Rudolf Nureyev made a name for himself as one of the icons in ballet. He was regarded as one of the greatest male ballet dancers of all time because of his outstanding performances. His mastery and technique that made him so revered in his industry was his legacy, and his late immersion in ballet urged him to strive for perfection. He probably was attracted to other perfect things, as well, including his stunning dolphin-shaped island, Il Gallo Lungo. He purchased the beautiful piece of land in the 1980s for $2.4 million and added it to his list of investments. After his death, the island was opened as a rentable holiday destination.
David Copperfield: Musha Cay – $50 Million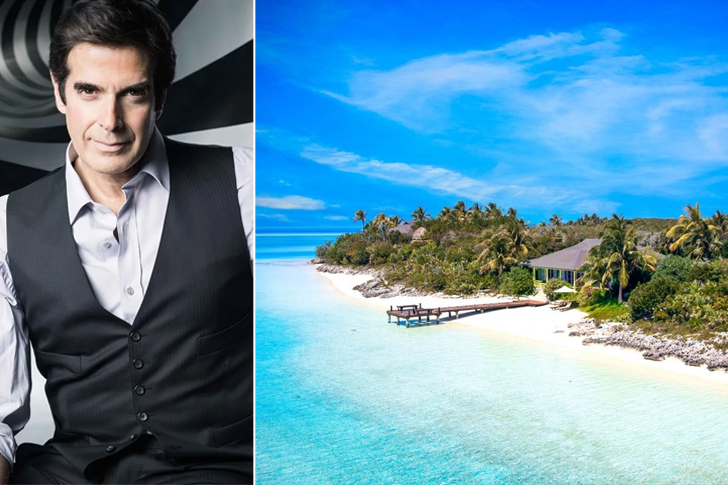 We're not talking about the Charles Dickens character; we're talking about David Copperfield, the illusionist. He was so successful in his craft that Forbes gave him the title of the most commercially successful magician in history. Even his TV specials are critically acclaimed, having earned 38 Emmy Award nominations and winning 21 of them! Because of his enormous success, he was able to purchase his very own island, the Musha Cay, for $50 Million. Now, the gorgeous property has been turned into a private resort. But with its $42,000-a-day rate, the guests should have pretty hefty credit cards!
Ted Turner: St. Phillips Island –  $4.9 Million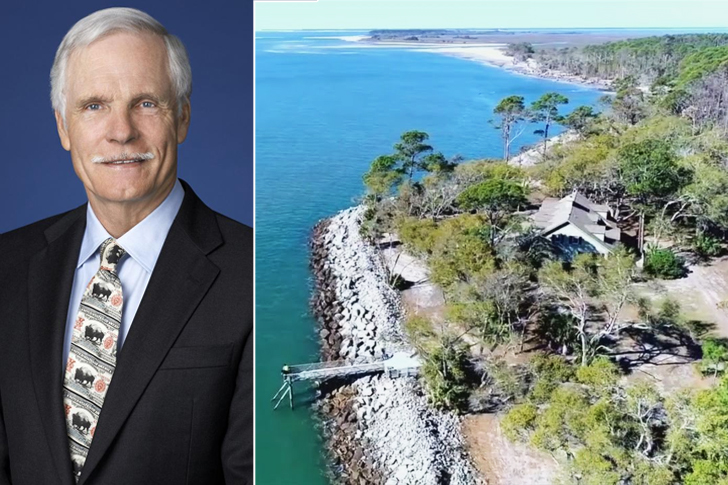 We already know that Ted Turner has billions of money to spare. Still, he likes to be wise with his money management and investment planning. He is known for being the founder of the first ever 24-hour news channel, the Cable News Network or what we know as CNN. He also ventured into philanthropy work and donated $1 billion to the United Nations that established the United Nations Foundation. But every so often, Ted likes to splurge and treat himself with luxurious items and what better way to indulge yourself than to buy a 4,680-acre private island worth $4.9 million right?
Naomi Campbell: Turkey – Amount Undisclosed.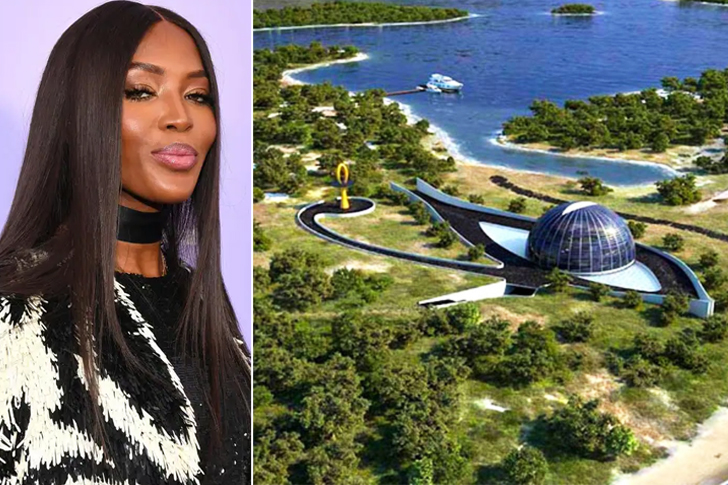 Being a world-class supermodel already means that you've got the looks to make a name for yourself. And when your name is Naomi Campbell, you've probably earned enough money to buy everything you want. However, if you have a billionaire boyfriend like her, everything a girl could ever dream of is probably within your reach! And almost every girl has dreamed of owning their own island—with 25 bedrooms and self-sustaining, eco-friendly features! With all its luxurious and glamorous amenities, the price is probably enough to make all our credit cards bleed dry! Despite calling off her relationship with her rich boyfriend, Naomi still spends time on her wonderful private island.
Larry Page: Eustatia Island — Amount Undisclosed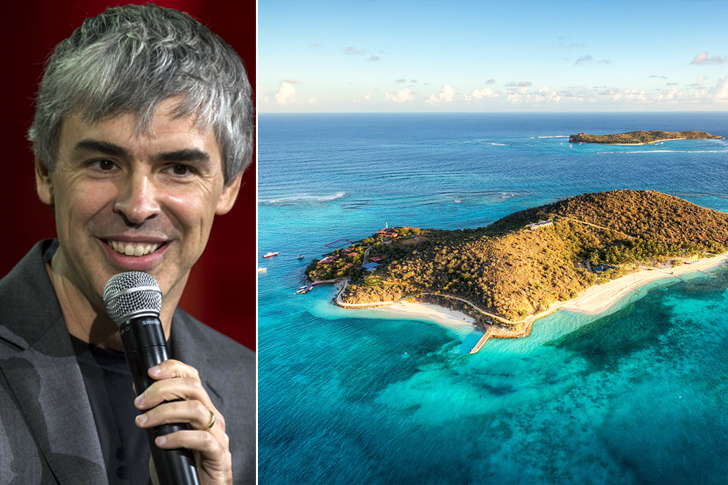 How many times has Google saved your life? Whether you consulted it for a homework question, or asked advice on how to do something or even checked out the nearest food stops; Google has always been there for us. Well, we have Larry Page to thank. As the co-founder of the world's most used search engine, there's no doubt that he has earned a fortune for his efforts and genius. Because of this, he was able to purchase Eustatia, a private island within the British Virgin Islands. This investment property also has solar-powered luxury villas for those who are interested in spending time in this wonderful paradise.
The Barclay Brothers: Brecqhou – $4.3 Million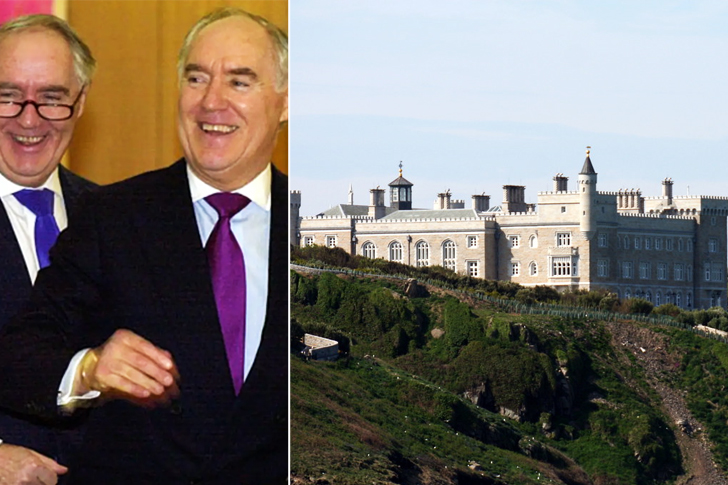 Despite the reclusiveness of the Barclay Brothers, everybody knows that with a net worth of £7.2 billion, they're bound to end up in any rich people list. These identical twins like to keep things private, but their business ventures always speak for themselves, their money management and their investment planning. In 1993, the brothers purchased the island of Brecqhou, spending around $4.3 million for the property. The construction of its amenities and other features started, even including a castle-like mansion fit for royalty! However, in 2015, the construction was announced to have stopped.
Larry Elison: Lanai – $300 Million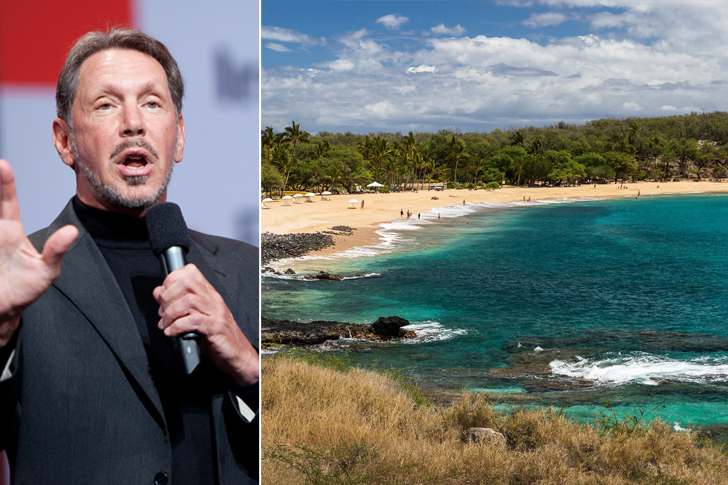 When you're the fourth richest person in the United States and even the seventh richest person in the world, you can buy anything you want without worrying about petty things, like loans and insurance fees. Well, the co-founder, chief technological officer and chairman of the Oracle Corporation, Larry Ellison has climbed his way up the success ladder despite his humble beginnings as an adopted child. Now, he owns his private island in Hawaii and turned it into a resort—the most expensive one on the island, of course, with its $21,000 rate per day! Ellison purchased the property back in 2012 for $300 million.
Ricky Martin: Angra dos Reis —$8 million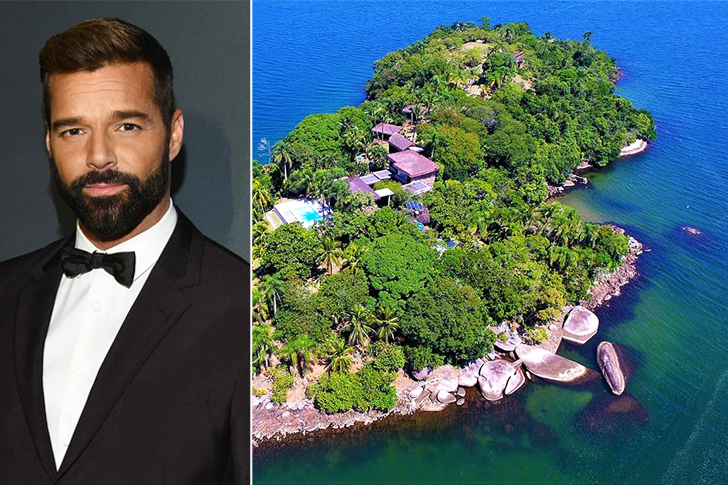 Ricky Martin has established himself as one of the greatest icons in the music industry. His charm and natural talent for singing made him the favorite of many, even becoming a sex symbol during his time. He was dubbed as the King of Latin Pop and popularized songs such as Livin' la Vida Loca. He came out as an openly gay man and married his husband, Jwan Yosef. Because of the couple's love for island getaways, the two decided to purchase a private island in the beautiful Angra dos Reis archipelago with their investment money. He and his family are no doubt enjoying the excellent amenities and features of their paradise home!
Tim McGraw and Faith Hill: Goat Cay – $1.2 Million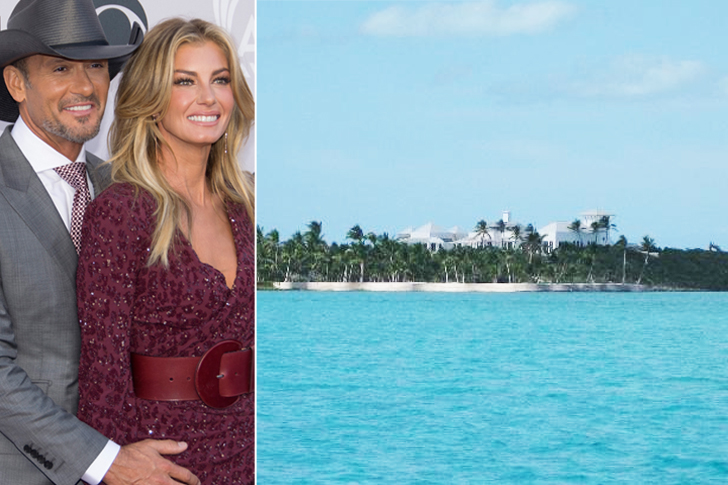 Both Tim McGraw and Faith Hill have made names for themselves in the music industry. Their distinctive voices have earned them numerous chart-topping songs and fan-favorite albums that have sold millions worldwide. Despite the typical Hollywood couple divorce and breakup story, these two have stayed together through it all, even in investment planning. So when they laid their eyes on Goat Cay, an island in the Bahamas, they were willing to pay $1.2 million to get their hands on it and even waited for 9 nine years to fully enjoy their mansion. The McGraw and Faith couple is a testament to true love and patience!
Diana Ross: Tahitian Island — Amount Undisclosed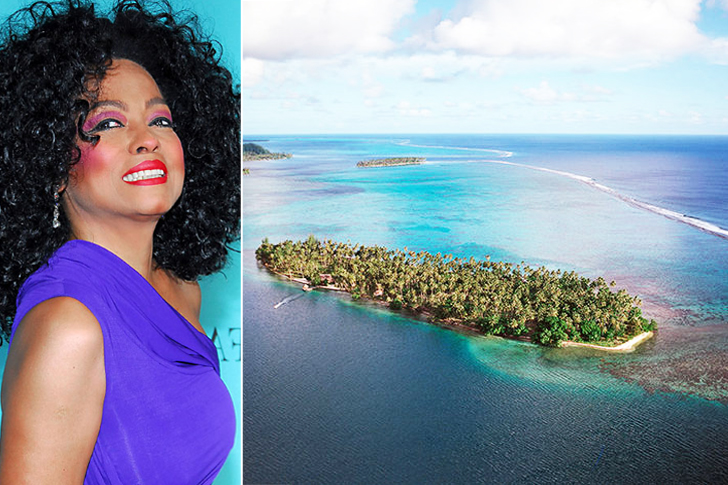 Another music icon goes by the name of Diana Ross, who is one of the music industry's shining gems. Inspiring other big stars such as the King of Pop himself—Michael Jackson—and even the Queen B—Beyoncé—Diana is indeed an impressive personality. With her powerful voice, it's no wonder that she's internationally and critically acclaimed as one of the greatest singers of all time. With her fortune-load of investment money, she and her ex-husband, Arne Naess Jr., purchased a property on the coast of Tahitian Island, where they spent their honeymoon. When the couple divorced, the property also went up for sale.
Dean Kamen: North Dumpling – $2.5 Million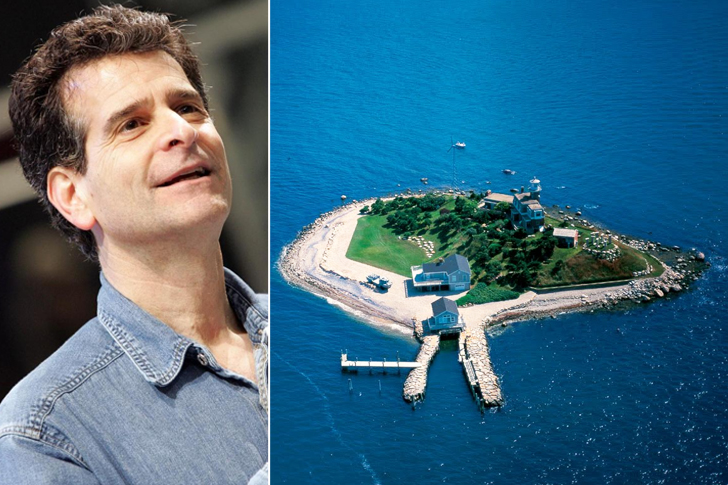 With his impressive skills and his genius for innovating, Dean Kamen became known for his invention of the Segway. He was enrolled in the Worcester Polytechnic University, where he was supposed to obtain his degree. However, he dropped out just before his graduation. Despite that, though, he still managed to make a name for himself because of his brilliant inventions and even his non-profit organization, FIRST. He is also the owner of a 2-acre island in New York called the North Dumpling Island, which boasts of its Stonehenge monument replica and lighthouse. John Winthrop originally owned the island in the mid 19th century before giving it to the federal government.
Gene Hackman: British Columbia — Amount Undisclosed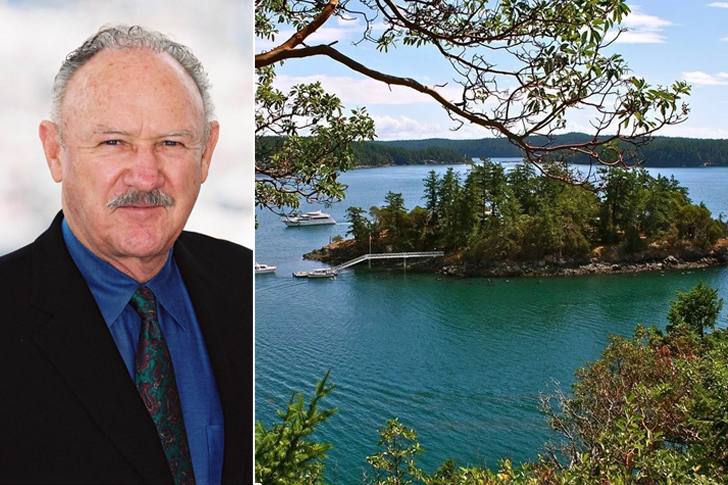 It's rare for beginning actors to get nominated for an Academy Award right after their debut performance, but Gene Hackman did it with his role as Buck Barrow in Bonnie and Clyde. His roles in French Connection and Mississippi Burning earned him critical acclaim and more Oscar nominations. With his success as an actor and novelist, he was able to save investment money for his retirement. It turns out that he already owned an island worth $3.9 million in the past. However, he decided to sell the property and replace it with a more secluded one, settling for a property in the British Columbian islands.
Tyler Perry: White Bay Cay — Amount Undisclosed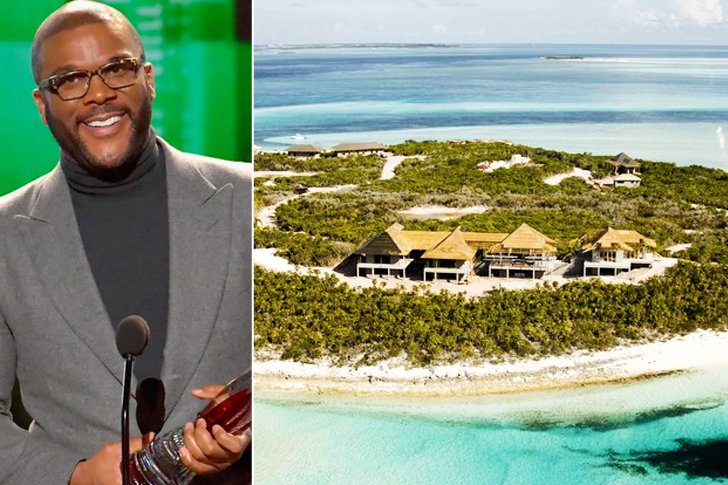 It's pretty rare to find someone so dedicated and passionate about their craft that they're willing to star in their self-directed, self-written and self-produced films. But Tyler Perry established himself as a great craftsman and in 2011; he was named as the highest-paid actor in the entertainment industry. With his large net worth and impressive credit score, it was no surprise when he confidently purchased White Bay Cay in the Bahamas. He bought the 25-acre property in 2009 and included amenities such as a spa, guest cottages, and even a marina!
Louis Bacon: Robins Island – $11 Million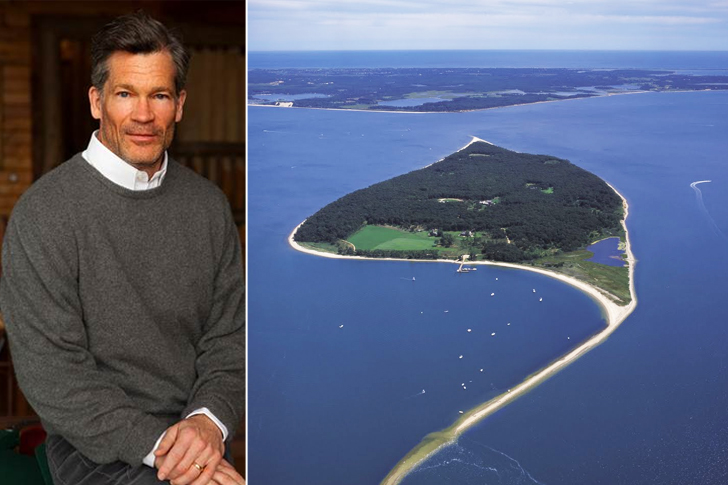 With a net worth of $1.81 billion in 2017; Louis Bacon can definitely buy anything he could ever dream of. The investor and philanthropist pursued his college education at Middlebury College as an American Literature major. In 1981, he graduated with a Masters in Business Administration in Finance Degree from the Columbia Business School. Years later, he is now ranked among the richest people in the world. His island property worth $11 million, the Robins Island, was a popular find for several companies. Luckily, Bacon purchased it intending to preserve its natural beauty, establishing the Robins Island Foundation.
Steven Spielberg: Madeira Archipelago – Amount Undisclosed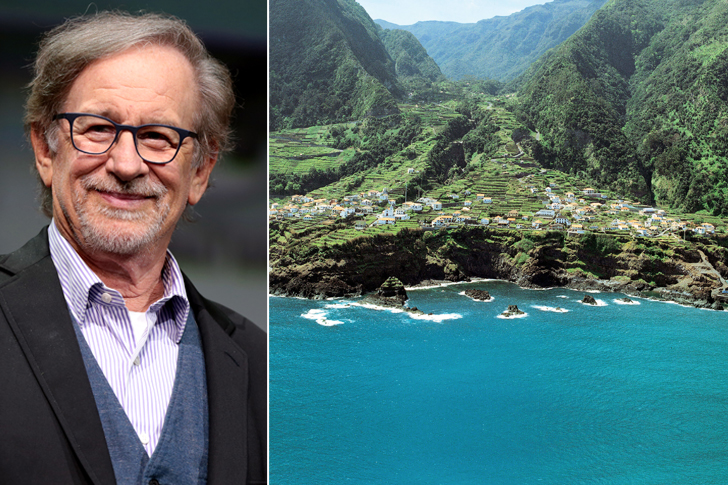 If you're a big fan of movies, you probably know Steven Spielberg. If you don't know him, you might as well be living during the Jurassic era, which inspired one of his most famous works, Jurassic Park.  We also have him to thank for Raiders of the Lost Ark, ET the Extra-Terrestrial, Saving Private Ryan, Close Encounters of the Third Kind, Back to the Future, Men in Black, Transformers and many more! Almost all of his movies are internationally and critically acclaimed, no doubt even garnering billions worth of cinema tickets from adoring fans. With his investment money, he's able to own two island properties in the Madeira Archipelago.
Mel Gibson: Mago Island– $15 Million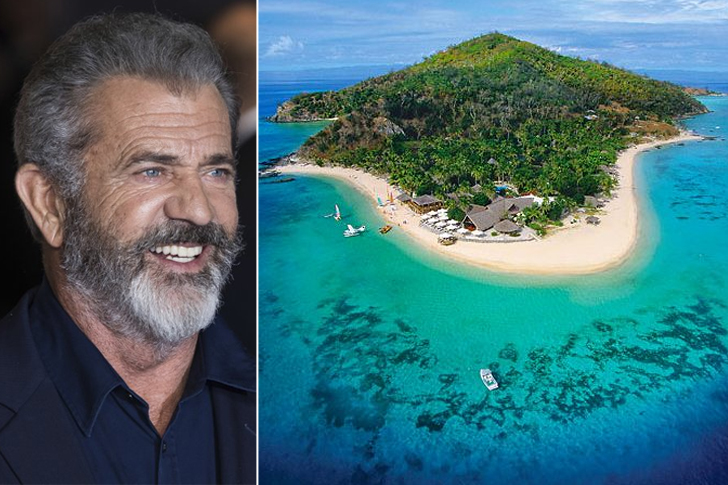 You probably know Mel Gibson for his outstanding work as an actor. He managed to establish his name among the greatest actors in Hollywood, and even directed some of his films. Braveheart, one of his most famous works, was directed, produced and even starred by him, which is an incredibly impressive feat for anyone! As a result, he earned a Golden Globe and an Academy Award for Best Director and another Academy Award for Best Picture. With a stunning net worth of about $425 million, his credit cards must be overflowing! Gibson also owns the private Mago Island, which he bought for $15 million!
Jay-Z and Beyoncé: The Bahamas– $4 Million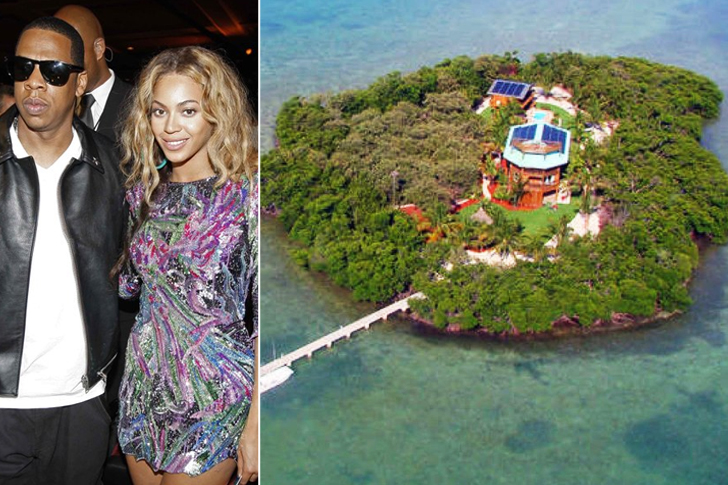 Jay-Z and Beyoncé is Hollywood's ultimate power couple. Individually, they both have incredible careers, with names that are forever embedded in the music industry as its greatest icons. Almost every album and single they release is a guaranteed hit, and their countless fans still can't get enough. With their jaw-dropping combined net worth of $1.35 billion, they can purchase anything they could ever want. They are also known for giving each other expensive and extravagant gifts. But with Jay-Z's gift of a Bahamas island worth $4 million for his queen, he probably takes the cake!
Joe Francis: Casa Aramara — Amount Undisclosed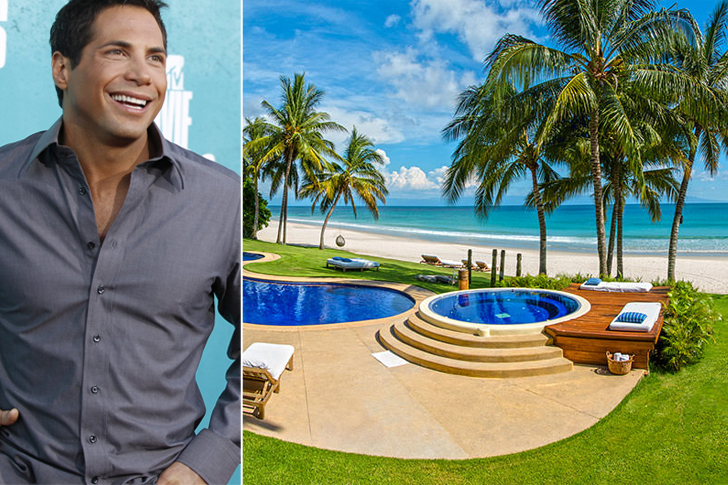 American entrepreneur and producer, Joe Francis, is the man behind the entertainment brands, Girls Gone Wild and Banned from Television. Before she came up with his brands, he started as a production assistant for Real TV and was struck by an idea that inspired his Banned from Television videos. Although he has been going in and out of courtrooms with his attorney for some time, Joe reportedly owns Casa Aramara, probably one of the most expensive hotels in the world. With its five-star international cuisines and different amenities, it's sure to be a dream destination. It also has an 'anything' button for its guests, which they can push to get just about anything they want!
Ekaterina Rybolovleva: Skorpios Island — Estimated Over $100 Million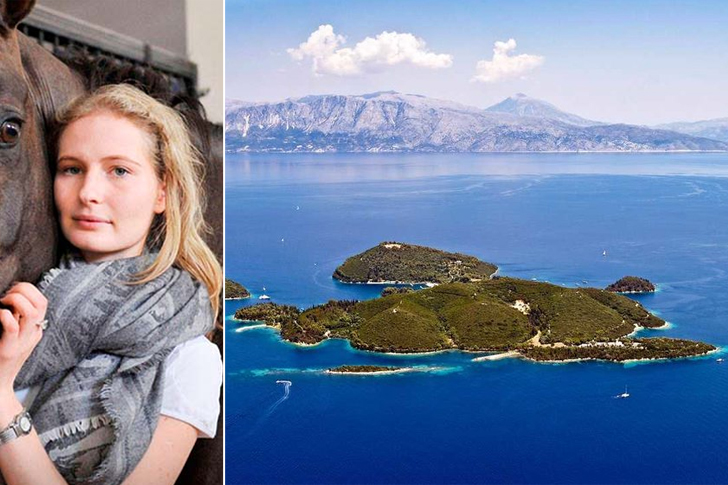 Most of us are not that lucky to be born into such a wealthy family, but Ekaterina Rybolovleva is. She's the daughter of Dmitry Robolovlev, a Russian entrepreneur and President of the AS Monaco Football Club. Ekaterina is known for her equestrian career and her participation in international competitions, even winning in the 2009 Gucci Masters. As a businesswoman, she also owns expensive and lavish investment properties, such as her Greek Island, Skarpios. Owning a piece of majestic Greek land among its rolling waves is already impressive enough, but Ekaterina is planning to transform it into a dream destination for famous personalities and the elites.
Nicolas Cage: Leaf Cay — $3 Million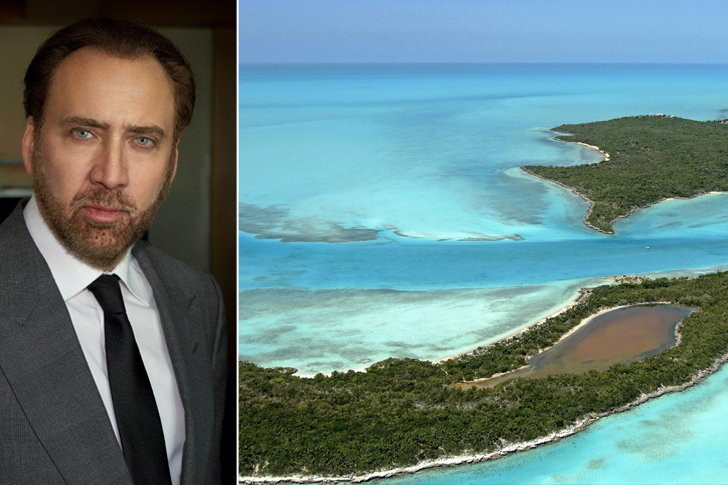 Everybody knows the name, Nicolas Cage. He's one of Hollywood's most famous actors and one of the legends in the industry. With his outstanding and beloved movies, he has established himself as one of the greatest actors in our time. One of his films, Leaving Las Vegas, earned him a Golden Globe, Screen Actors Award and even an Academy Award! With that international and critical acclaim, it's no surprise that he's made enough investment money to purchase his own stretch of the island in the Bahamas for $3 million. However, the property went for sale for $7 million, and Cage's publicist refused to talk about it.
Eddie Murphy: Rooster Cay — $15 Million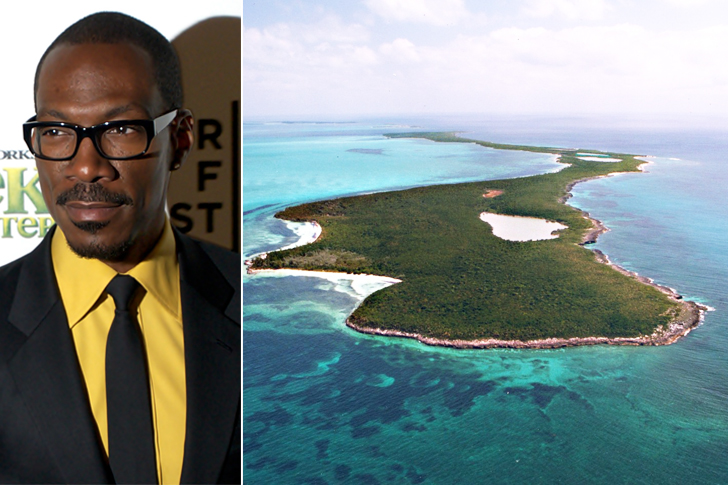 Eddie Murphy is another icon in Hollywood. If you're not familiar with his face—which we seriously doubt—you'll probably recognize his voice! After all, he is the voice of beloved cartoon characters such as Donkey from Shrek and Mushu from Mulan. His stunning net worth of $120 million also allows him to spend on any investment property he wants, including his very own private island. Actually, Eddie already had an island of his own. But alas, it's apparently too small for him. So he purchased the six-hectare property worth $15 million, Rooster Cay, in 2007. Since he hasn't mentioned anything about buying another property, he's probably content with this one.
John Wayne: Taborcillo Island — Amount Undisclosed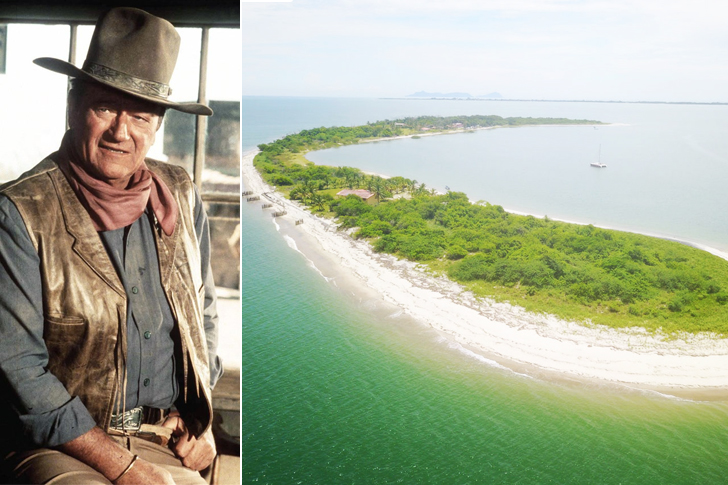 John Wayne is one of Hollywood's most beloved personalities. He's well known for his Western movies, and his rise to fame was far beyond the typical Hollywood stardom. He personified the American ideals and was even awarded the Congressional Gold Medal and the Presidential Medal of Freedom. Because he was vocal in his political views, he also supported Panama in their fight for the Panama Canal, earning him his very own island from the former Maximum Leader of the Panamanian Revolution, Omar Torrijos. Now, Ralph Hübner owns the Taborcillo Island and plans to transform it into a theme park with his investment money.
Dietrich Mateschitz: Fiji — $10 Million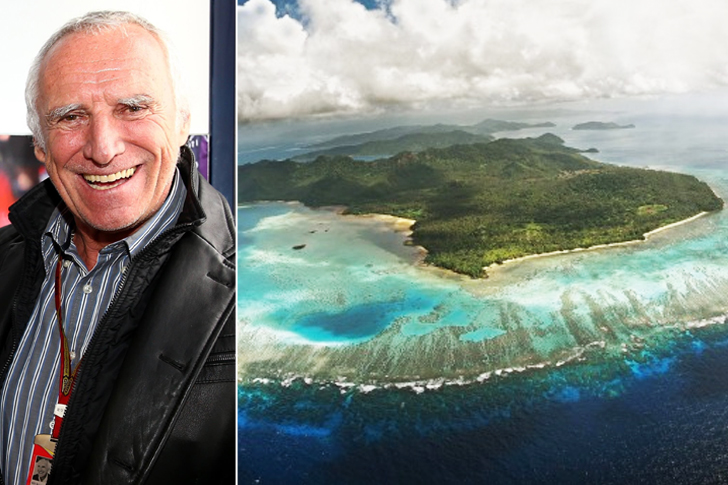 Hailing from Austria, Dietrich Mateschitz is one of the richest people in the world. It doesn't come as a surprise, especially since he's the co-founder of the energy drink company, Red Bull. He holds 49% of the company's profit, shooting his net worth to a stunning $19.5 billion! With all that investment money, he now ranks 53 in the list of the world's wealthiest people, as of 2019. For $10 million, he purchased Laucala, Fiji and developed a luxury resort. With one of the richest men in the world owning the place, there's no doubt that the nightly rates would be expensive.
Dr. Henry Jarecki: Guana Island — Amount Undisclosed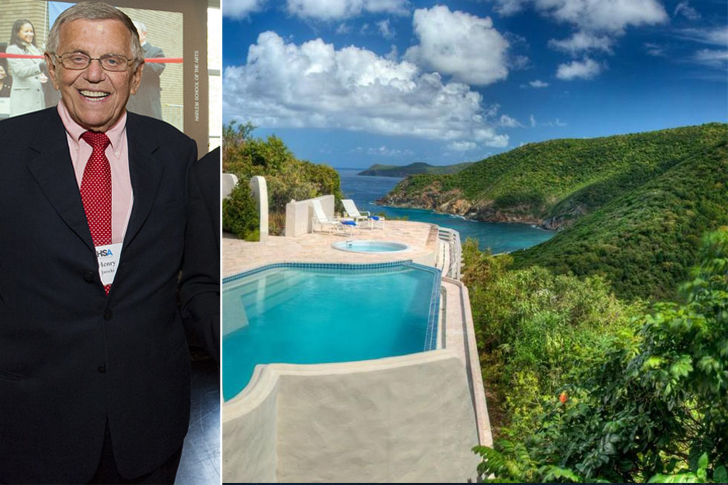 It must be nice to be smart, especially when you take a look at the entrepreneur, academic, producer, philanthropist, and psychiatrist, Dr Henry Jarecki. He obtained his degree at Heidelberg University and spent more than 10 years teaching at Yale Medical School as an academic. With his credentials, he was also able to venture into business, partnering with big brands and companies. Eventually, he bought his own island in the 1970s, a place called Guana Island. Located within the British Virgin Islands, Jarecki's property also boasts of its own lush eco-resort.
Craig McCaw: James Island — $75 Million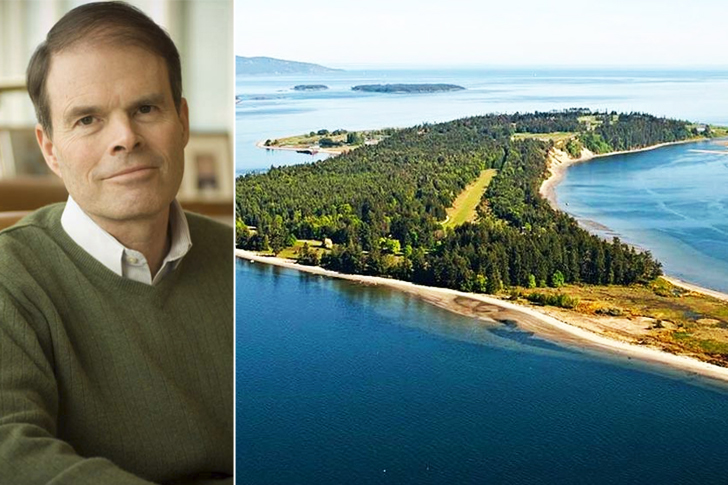 As his father's businesses were sold to repay the debts, Craig's family was only left a small one. In an effort to salvage his family's name and refocus what his father had done, the young Craig McCaw decided to take over the company. He bought remote cable companies and soon found his McCaw Cablevision to be among the largest cable carriers in the United States. In 1994, he was able to buy James Island for $19 million and enjoyed the property for about two decades. He later sold it for a jaw-dropping $75 million and in 2019; he sold his Montecito mansion worth $12.2 million to Gary Newman, the former head of FOX.
Michael Schumacher: Dubai — $7 Million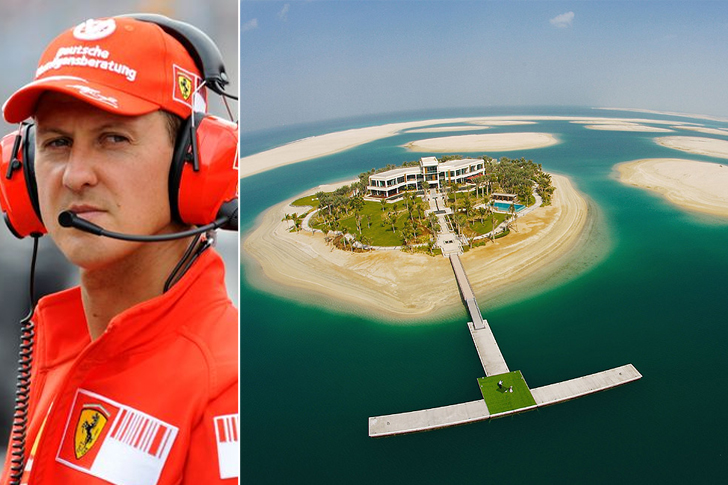 If you're a fan of racecar driving, it's impossible not to know Michael Schumacher. After all, he is heavily regarded as one of the best racecar drivers in the history of the world! In fact, he's still probably the most successful one in the sport, holding records like the Most Grand Prix wins, the Fastest Laps, the Most Races Won in a Single Season and even the Most World Championship Titles. Yes, that's how good he is! Now that he's retired, you need not worry about his insurance fees or home loans; he can manage that especially when he's got the Prince of Dubai gifting him with luxurious presents—even his very own island! How lucky can you get?
John Malone: Sampson Cay — Amount Undisclosed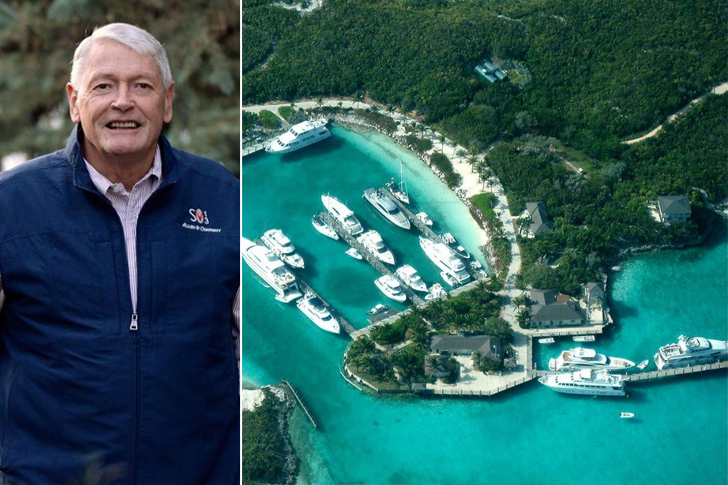 John Malone earned his degree in electrical engineering and economics from Yale University. Since then, he's been climbing the ladder of success as a billionaire landowner, philanthropist, and businessman. For 24 years, he stood by Tele-Communications Inc. as its chief executive officer, but now he's with Liberty Media, Liberty Global and Qurate Retail Group as its chairman. With his stunningly huge net worth, he purchased one of the largest private islands available in the market, Sampson Cay. Before, the stretch of lush land was open to the public, but now Malone prefers to use it for his family vacations.
Paul Allen: Allan Island — $13.5 Million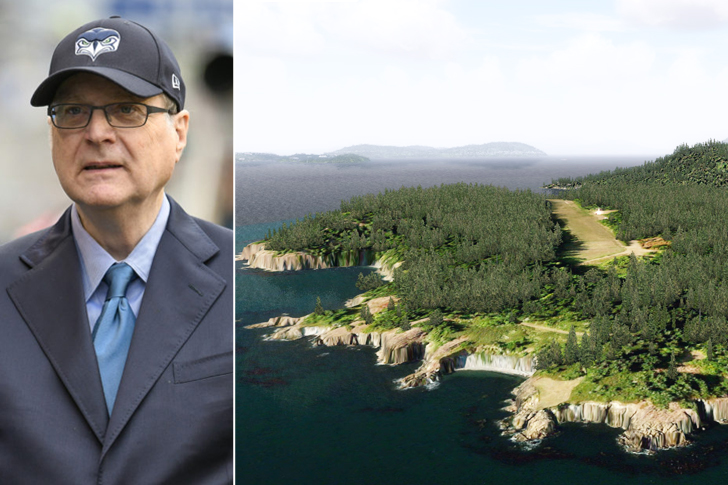 People today owe a lot to Microsoft. Whether you use its software to write your homework or thesis, work on your presentation, create spreadsheets for your boss, and even design illustrations, Microsoft Office is your saving grace. Well, aside from Bill Gates, we have Paul Allen to thank for the wonders of their brilliant software. The business magnate, researcher, humanitarian, philanthropist, and investor is now ranked 44 on the list of the wealthiest people in the world. That's why it wouldn't be a surprise to know that he bought his own island with his investment money in the early 1990s.
Julia Roberts: Bahamas — Amount Undisclosed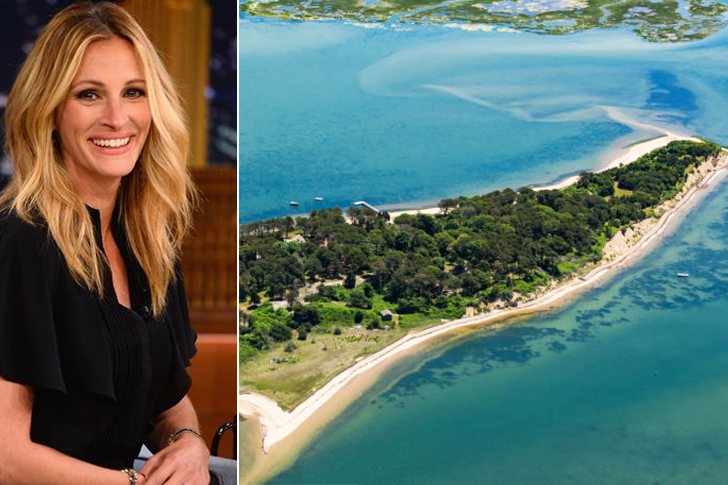 Who doesn't know Julia Roberts? At first glance, you'll probably mistake her for a thirty year old, especially with her glowing skin and beautiful looks, but the actress is already in her 50's. Throughout her career, she is treasured as one of Hollywood's best leading ladies, winning three Golden Globe Awards and an Academy Award for Best Actress. There's no question that she sits on an incredible amount of net worth, so she doesn't have to worry about loans and spending too much. In fact, she decided to buy her own piece of paradise in the Bahamas and who could blame her?
Mikhail Prokhorov: North Island — $35 Million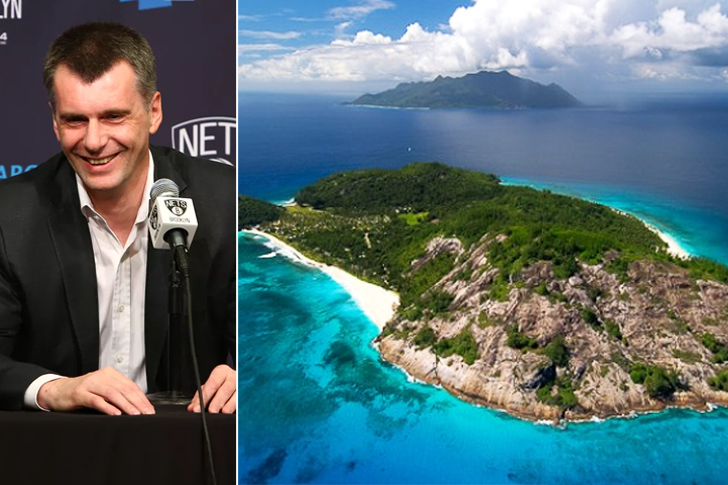 Mikhail Prokhorov has probably ventured into every profitable industry he can think of. Well, almost. He established himself as a great businessman and later earned billions of investment money, enough to acquire luxurious properties. He is also involved in politics as an activist and even ran in the 2012 Russian presidential campaign. He is also the owner of the American basketball team, the Brooklyn Nets. With all his riches, he probably takes holidays anywhere he wants and even buys them! In fact, that's what he did when he purchased North Island for $35 million!
Aristotle Onassis: Skorpios — $142 Million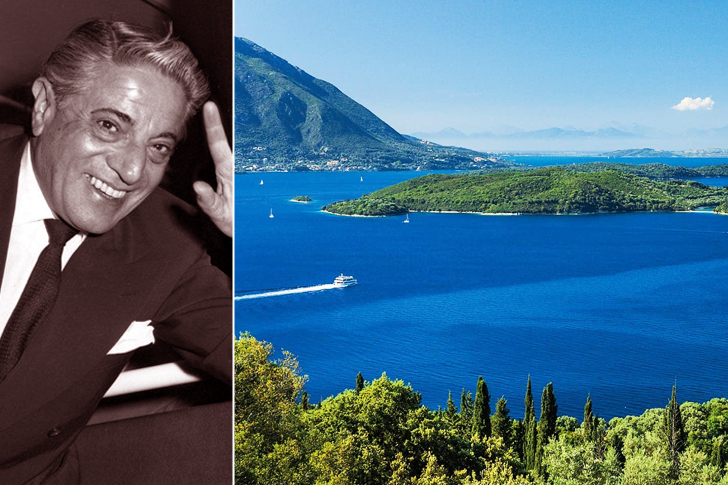 Aristotle Onassis is another name that can be found among the world's richest people during his time. He was also controversial for being involved in affairs with a few famous female personalities like Jacqueline Kennedy and Maria Callas. He was the owner of the world's largest privately-owned shipping fleet, a testimony to his great wealth and success as a businessman. And while he probably considers this as one of his investments, he once also boasted his Skorpios Island worth $142 million! After his death in 1975, his daughter, Athina Onassis, sold the property to Katerina Rybolovleva in 2013, who gladly paid for the island.
Roman Abramovich: St. Barts — $90 Million –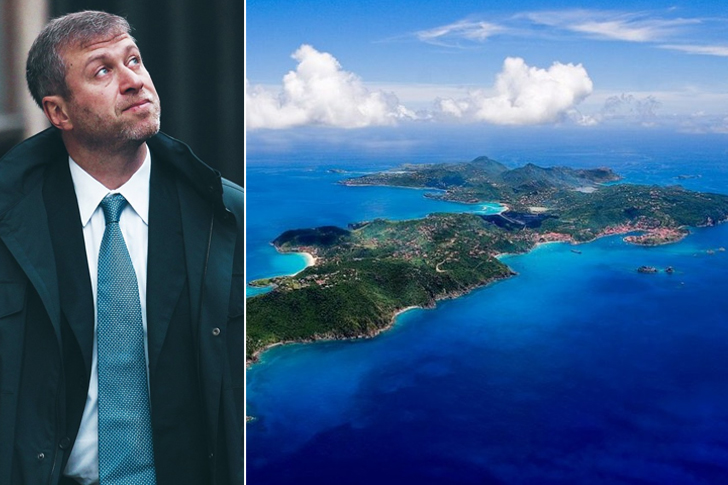 Roman Abramovich made a name for himself as a famous businessman, politician and investor. He's known for Millhouse LLC, his private investment company. But he's probably more famously known as the man behind the Premier League football club, Chelsea FC. As a Russian-Israeli billionaire, he is recognized as Israel's richest man and ranked 11 in Russia. With his riches, he's even included in the world's wealthiest people. He's been spotted aboard his luxury yacht, Eclipse, and visiting the island of St. Barts, where he owns a beach house. The property is said to be worth $90 million and is definitely perfect for dream family vacations and fancy parties.
Shah Rukh Khan: Palm Jumeirah — $2.8 Million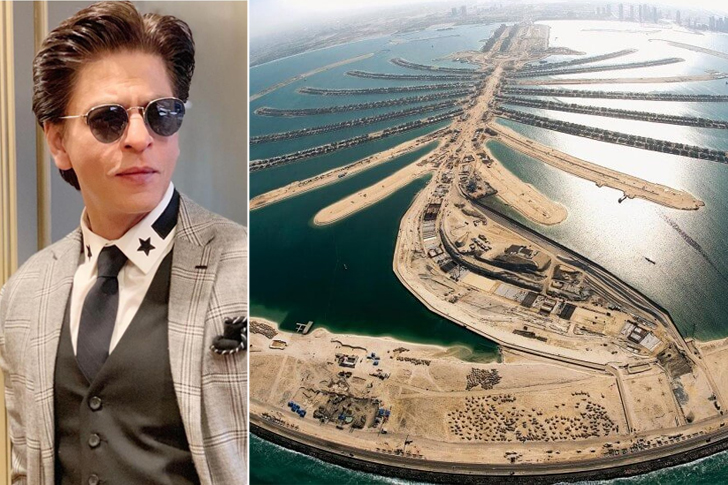 You might not be familiar with Shah Rukh Khan, but in India, he's considered as a King. Well, King of Bollywood, that is. With more than 80 films and various awards for his performance, there's no wonder that people call him King Khan and Badshah of Bollywood. He was given the Padma Shari by the government of India and even the Ordre des Arts et des Lettres by the government of France. And just when you think that Bollywood stars aren't as wealthy as the ones from Hollywood, think again. Shah Rukh Khan is, in fact, the owner of the famous Palm Jumeirah, and it cost him $2.8 million of his investment money.
Jay Leno: Rhode Island — $13.5 Million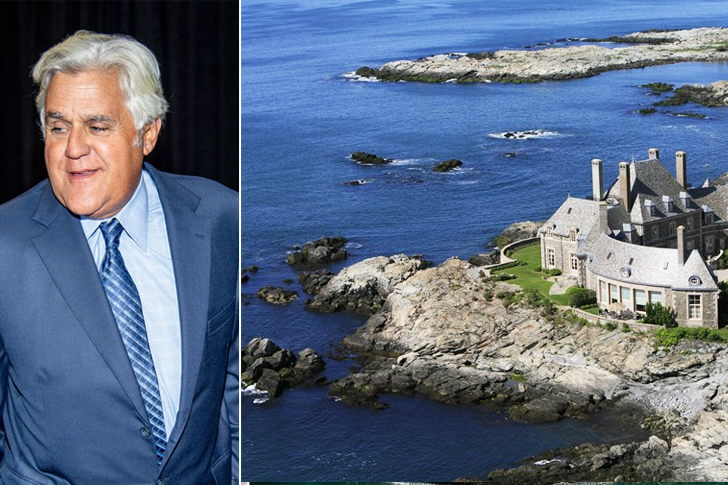 If you're a fan of late-night comedy shows, then you probably know Jay Leno. The actor, writer, producer, comedian, and television host is famous for his show, The Tonight Show with Jay Leno, where he features Hollywood stars and chat to them, throwing in a few jokes and gags here and there. Despite being involved in controversies and going in and out of courtrooms with his attorney, Leno continued to deliver his gift for gags to his audience. In 2017, he purchased a home in Newport, Rhode Island worth $13.5 million. The property is said to include a tennis court, a large garage, a walled garden, and even a carriage house.
Richard Branson: Necker Island — $320,000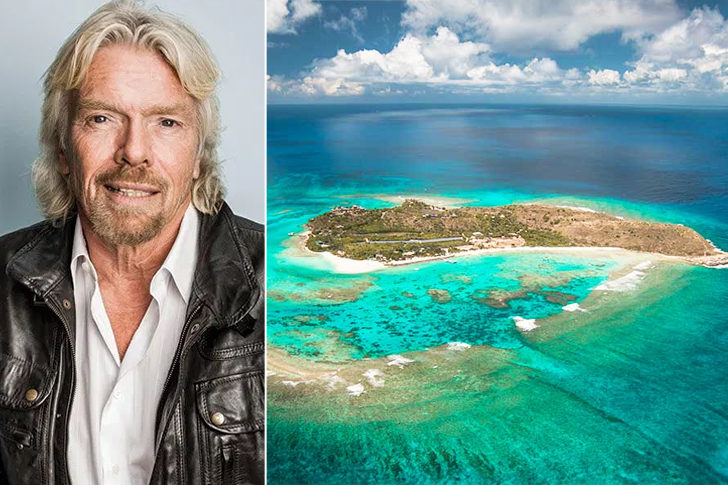 Richard Branson started with humble beginnings. With his curiosity and interest in starting a business venture, he became a startup businessman at the age of 16 with his magazine, Student, and continued to delve into the business industry since then. You probably know him because of his Virgin Records, which eventually grew into Virgin Megastores in 1972. In 2007, Richard Branson was included in the 100 Most Influential People in the World. He further proves his smarts in the business industry when he purchased Necker Island in the '70's. Now, it's a fully functional luxury resort destination, proof of his wise investment planning.
Leonardo DiCaprio: Blackadore Caye — $1.75 Million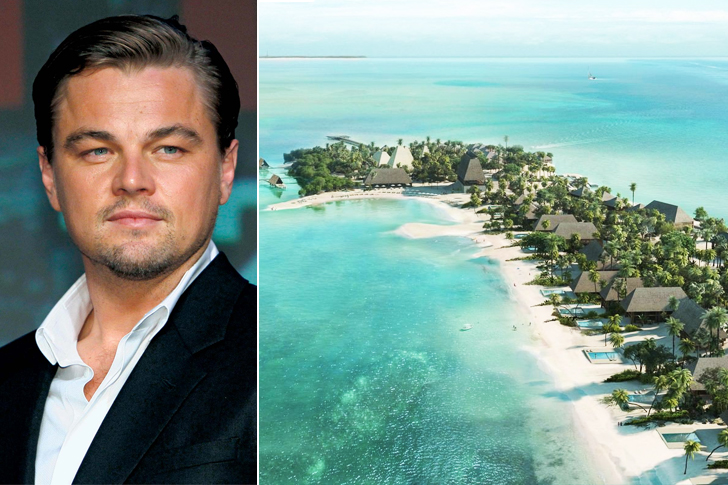 Let's be honest here. If you don't know who Leonardo DiCaprio is, there's a high chance that you might be living in a cave. After all, he is one of Hollywood's most popular celebrities and one of the best actors. It's hard to pass by a Leo movie without being overcome by the urge to watch it. And if his most famous character from Titanic really did survive, he's probably steered clear from the ocean. But not Leo. In 2005, he bought the Blackadore Caye for $1.75 million. Financially, it seemed like it didn't affect him at all since he owns a hefty sum of investment money.
Pierce Brosnan: Kauai Island — Amount Undisclosed
Can you imagine being Pierce Brosnan? Aside from being considered as one of the best actors of our time, he's also one of the few actors who have been given the chance to portray the well-known fictional character, James Bond. Throughout his career, he's also been regarded as one of Hollywood's greatest leading men. As if that's not enough, despite his age of 66, he's still very handsome and keeps capturing the hearts of many women. With all his investment money from blockbuster films, he was able to spend a hefty amount to get a villa on the island of Kauai.
Jennifer Lopez: Hamptons — $10 Million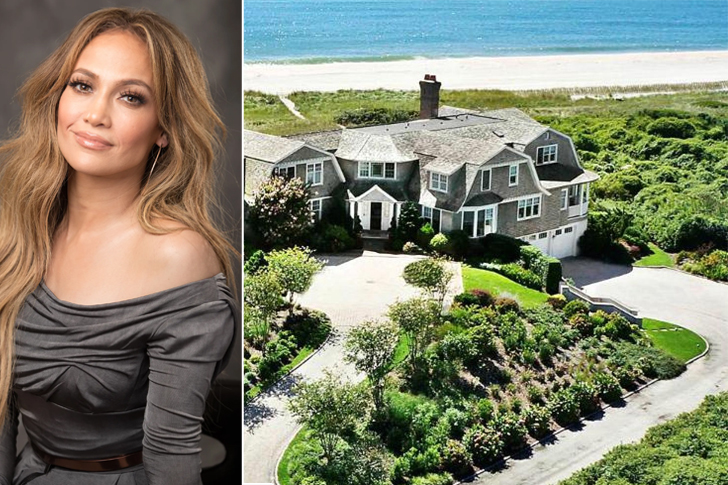 Almost every woman dreams of becoming JLo; even looking like her would be a total dream come true. Imagine having perfect skin, a flawless face, a sexy body and incredible talent that could make anyone's jaw drop! She's always included in the list of the world's most beautiful faces and would no doubt continue to be featured, despite her age. Aside from having chart-topping singles and albums, she also apparently owns a few expensive investments. This includes her property in the Water Mill area of Hamptons, reportedly costing her around $10 million. With 14,000 square feet of this magnificent beach property, she's definitely happy with her purchase!
Isabel Goldsmith-Patiño: Las Alamandas, Manzanillo, Mexico — Amount Undisclosed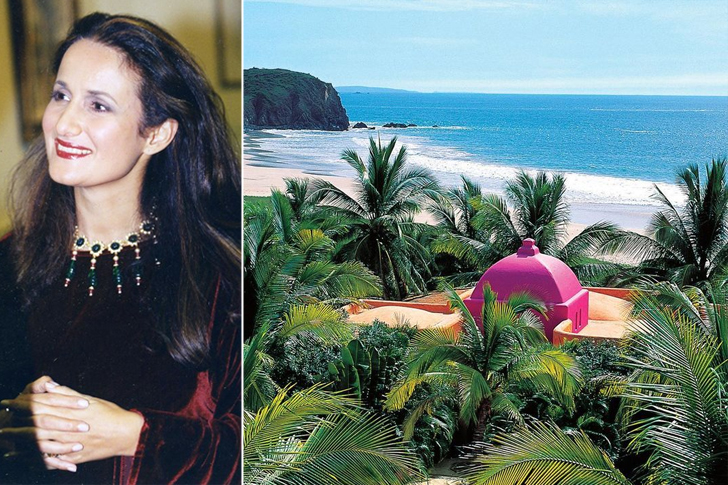 As the daughter of a British financier, Sir James Goldsmith, Isabel Goldsmith Patiño probably grew up with everything she could ever want and need right at the tip of her fingertips. Her grandfather, Don Antenor Patiño, was also wealthy and he had loved her very much. When he died, he decided to give one of his investments, the island of Las Alamandas to Isabel, knowing that she would use it for good. True enough, the island now has its luxury hotel. With only 1,500 acres, the estate can only accommodate 42 guests, but it guarantees the beauty and relaxation any island can offer.
Bernard Arnault: Indigo Island — $35 Million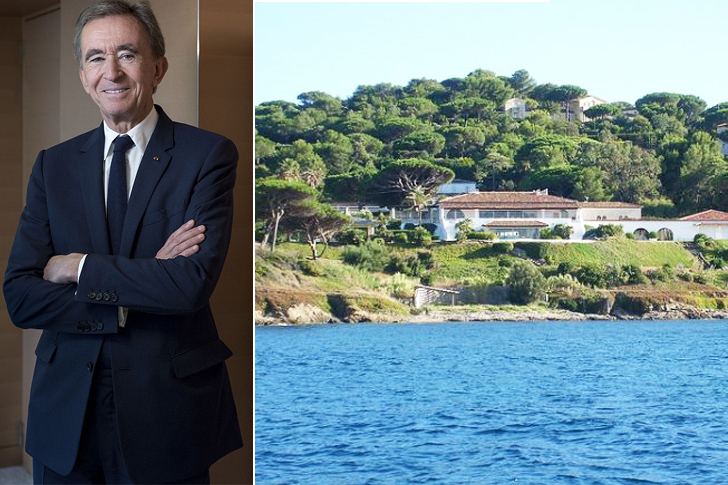 Bernard Arnault is no ordinary man. Sure, he might have a degree just like any other man, but you can't underestimate his investment money and his power. After all, in a large continent such as Europe, he holds the title of being the richest person there and even coming third in the whole world! He's the Chief Executive and Chairman of LVMH, which is the world's largest luxury-good company and the ones behind the fancy Luis Vuitton Bags and Henessy. With his over-flowing riches, the $35 million he spent to purchase the Indigo Island must have felt like throwing away change!
Oscar De La Renta: Punta Cana, The Dominican Republic — Amount Undisclosed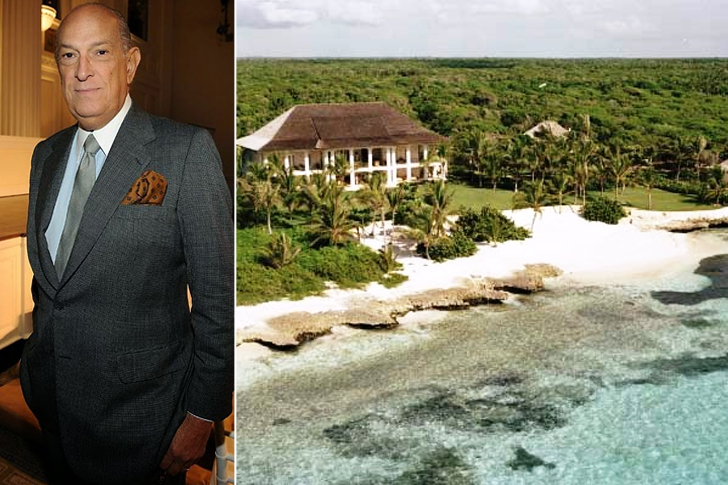 Most people would probably know Oscar Fiallo by his professional name, Oscar De La Renta. As a fashion designer, two other designers, Cristobal Balenciaga and Antonio del Castillo, trained him with the tricks of the trade. He soon made a name for himself with his designs. Aside from his creative side that he uses to create fantastic pieces of clothing, Oscar De La Renta is also known to practice diplomacy as the unofficial ambassador of the Dominican Republic. With the investment money he earned from fashion designing and his ambassador work, he purchased a property in Punta Cana, where he would visit during vacations.
Billy Joel: Long Island — $32.5 Million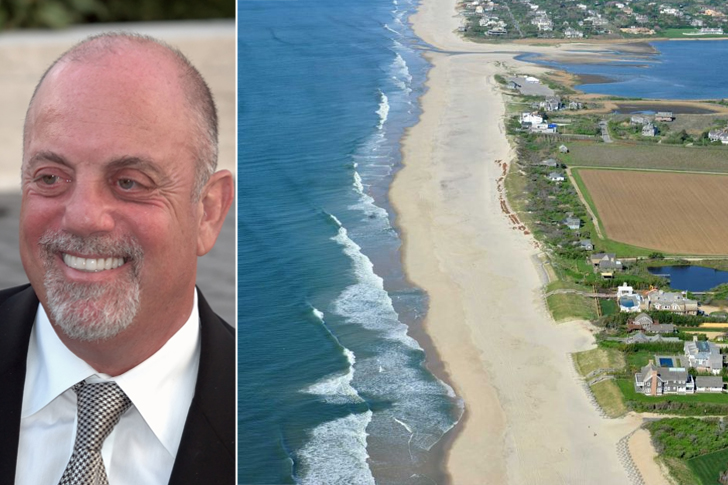 Billy Joel has established his name as one of the greatest musicians and singers of all time. Because of his talent, he's widely considered as an icon in the music industry, with various awards and recognitions earned. His chart-topping singles and albums have won the hearts of many, and people even pay tribute to him and his music. He's been known to having amazing songs, but he also owns impressive investments. He bought a piece of real estate in Long Island, originally for the price of $22.5 million, but he was able to sell the property for $32.5 million. The price is only worth it for its beach house, guest cottage, tennis court, and even its own bowling alley!
Noel Coward: Round Hill, Montego Bay, Jamaica — Amount Undisclosed
The prestigious Round Hill in Montego Bay, Jamaica, started out with humble beginnings. Far from its start-studded residence and luxurious amenities that it boasts of today, the piece of land only used to be a 110-acre pineapple farm! It wasn't until John Pringle, an entrepreneur, took an interest in the property and transformed it magnificently. Now, stars like playwright, director, composer, and actor, Noel Coward, has taken an interest and one of its shareholders. Ralph Lauren, who is also a resident on the island, is behind the fabulous design of some of the extravagant houses.
David Bowie: Mandalay — $20 Million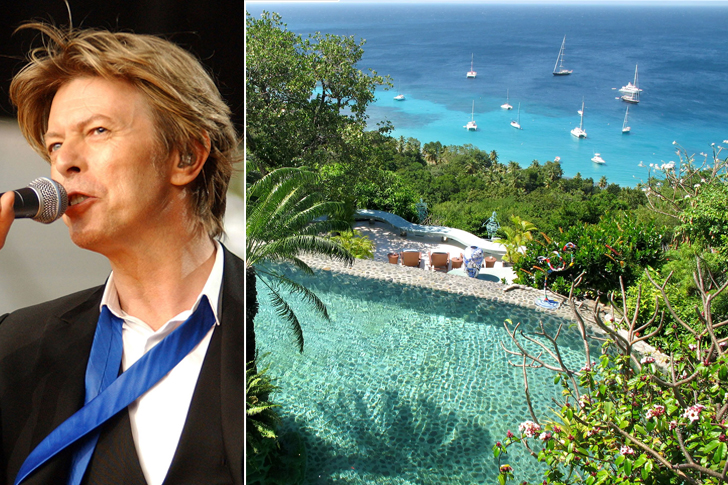 Everybody mourned the death of the great David Bowie. People from the music industry bid their farewell to one of the music legends, as the world lost another great man. His fans applauded his music and his albums would always appear at the top of the charts. Because of this, he won various accolades for his performances and his songs. He is also known for his extraordinary fashion sense that never failed to turn heads. He's regarded as one of the most significant figures in music. He once owned the Mandalay Estate on Mustique Island. But after his death, Simon Dolan devoted $18 million of investment money to purchase the property.
Eric Clapton: Standfast Point, Island of Antigua — $14 Million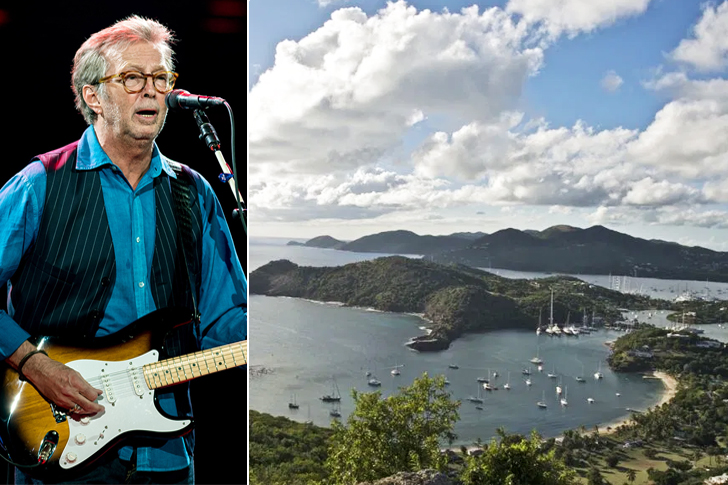 Another famous name in the music industry is Eric Clapton. Considered as one the music industry's legends, he has composed and performed all-time favorite hits that still never fail to give you the feels. His Wonderful Tonight is a famous song, even in weddings, and Tears in Heaven is still the favorite of the many. His $14 Million home in Standfast Point in the Island of Antigua is his piece of heaven, and he devoted his investment money to keep it beautiful. Now, guests can even rent the vacation home for $50K per week and enjoy its amenities of swimming pools, dining areas, and a billiard room.
Shakira: Bonds Cay — $16 Million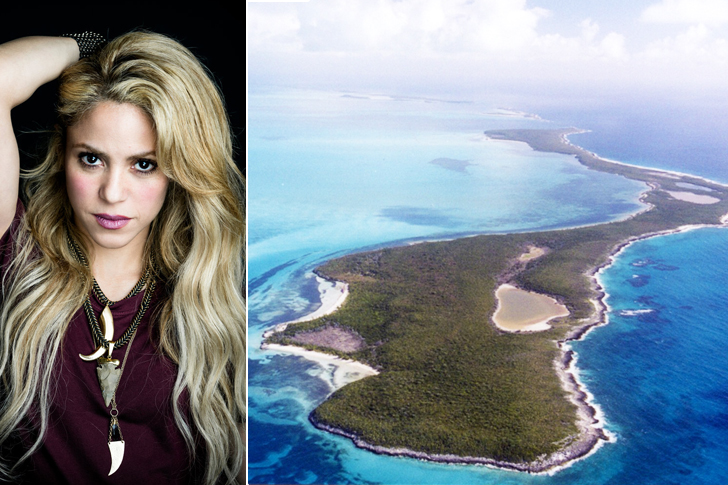 It seems like the music industry's biggest stars are collecting luxurious investments. Another name you might recognize for topping the charts lately is Shakira. You probably know her for her distinctive voice and even her hips that don't lie. You can't deny her incredible talent and her frequent chart-topping hits and outstanding performances are proofs of that. The 700-acre island she shares with Roger Waters is said to be for business purposes. Spending around $16 million for the property, the two probably plan on getting their returns by developing luxury hotels for their star-studded guests.
Bruce Willis: Parrot Cay, Turks & Caicos Island — $27 Million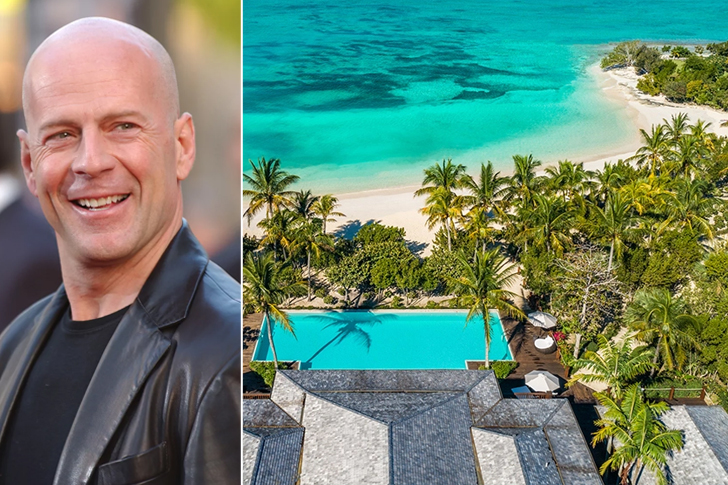 You cannot be a fan of Hollywood films without knowing the name Bruce Willis. He is, in fact, one of the movie industry's most prominent actors and considered as one of the best stars. He established a name for himself and earned his A-list celebrity status through his outstanding performances and numerous awards. Among his other investments, he also owns a property in Parrot Cay. However, the actor has sold his Turks and Caicos home for $27 million.
Donna Karan: The Sanctuary — Approximately $39 Million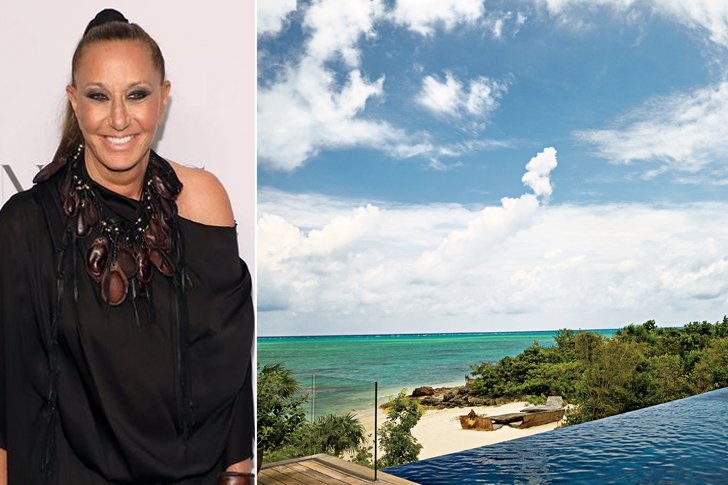 Great news for people who want to live like stars for a few days! Fashion designer, Donna Karan, is offering her place in The Sanctuary in Parrot Cay as a vacation destination. The property originally costs $39 million, and in case you can't buy the whole thing with your investment money, you can still spend some time enjoying the spa, infinity pool, yoga pavilion and butler services of her fantastic property. While you're at it, maybe you would even bump into some famous personalities like Bruce Willis, Christie Brinkley, and Keith Richards as the island also boasts of its star-studded residents.
You've Reached The End